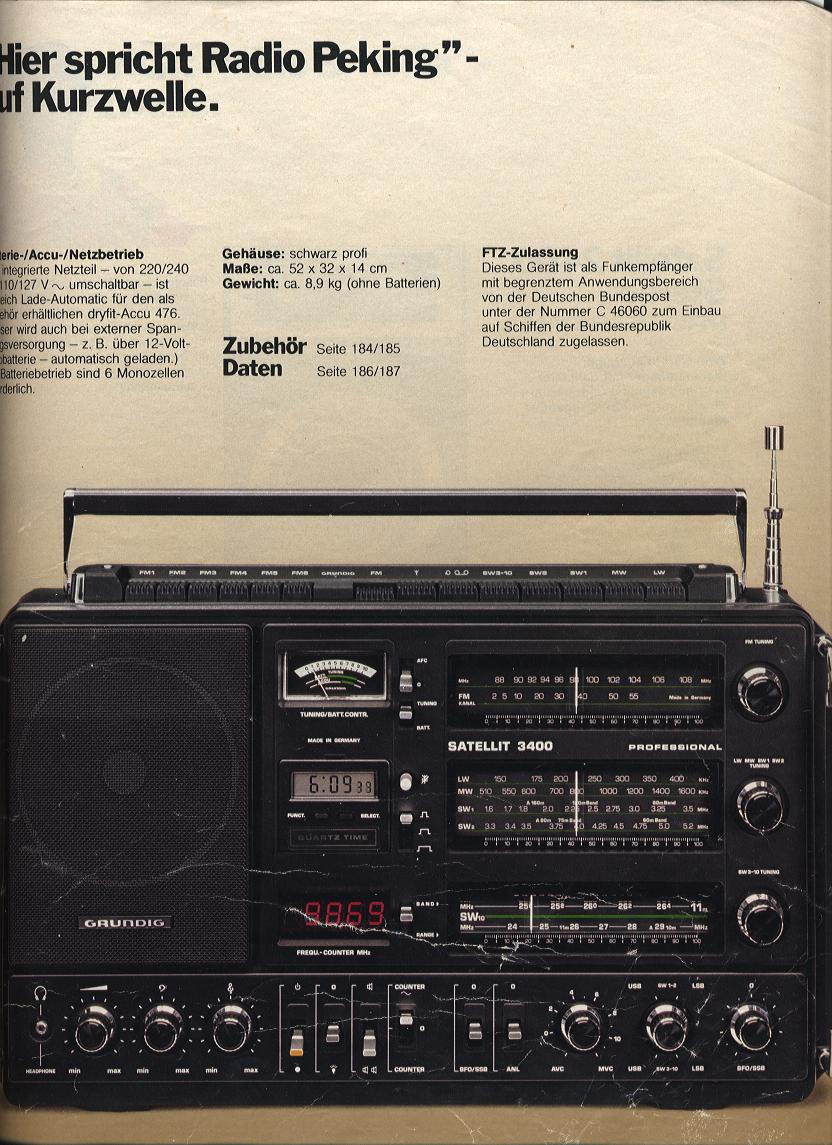 | | |
| --- | --- |
| Grundig Satellit 750,1000, 2000, 2100, 3000, 3400-Tecsun/Eton Shortwave S-350 DL | |
Home
ARCI RADIO SWAP MEETS= RADIOS FOR SALE
At the Lake with Paul & Cheryl
Braun Shortwave by Dieter Rams
The Super Radios by G.E.
Satellit is a German Shortwave radio not a big dish!
G E Super Radio Cassette
GRUNDIG Satellit 300 – 400 & 4000 Shortwave, Kenwood
Grundig Satellit 750,1000, 2000, 2100, 3000, 3400-Tecsun/Eton Shortwave S-350 DL
Panasonic Shortwave Radios
ZENITH – MAGNAVOX, BARLOW WADLEY SHORTWAVE RADIOS
GRUNDIG BOYS ARE BACK IN TOWN / QUANTUM LOOP ANTENNAS FOR AM
NORDMENDE SHORTWAVE RADIOS
TELEFUNKEN SHORTWAVE RADIOS
GRUNDIG SATELLIT 700 SHORTWAVE RADIOS
GRUNDIG FINAL EDITION SHORTWAVE RADIOS
SONY SHORTWAVE MULTIBAND RADIOS
BOOMBOX, GHETTO BLASTERS AND SHORTWAVE TOO!
OLD RADIOS, BRAUN T-1000 SHORTWAVE RADIOS
FUN LINKS TO VISIT!!
CONTACT US ABOUT REPAIR, PURCHASES, QUESTIONS.
GRUNDIG Satellit 900 / Eton E-1 Shortwave, XM Satellite Combo

Grundig Satellit 750 now available

Tecsun AN 200 MW antenna & Eton S350DL

Tecsun CR1100 shows temperature, neat set.

CC Radio SW is a hit from Redsun!

CC Radio Plus AM-FM-WB-TV 2-13
TV Band will still work off cable!!

Grundig Sat 6002 USA Version/ Sat 1000 Germany
Sat 6002 $ 495 woodlike Sat 6002 silver sold.

Grundig Satellit 2000 Woody $295 to $395

Grundig Satellit 2000 Silver Sold

2100's all black grills,various trims $495 + ship

Sat 3000 tends to have a bad bandwith switch.
Sat 3000 $ 595

Grundig Satellit 3400 Digital Display & Case
$ 1095 + shipping

Grundig Satellit 3400 Black, $ 495 + ship

Tecsun 2000 clone from the Sanyo RP 8880

Early design of the Sat 750 (HK Radioer)

Sanyo RP 8880 from Chucko in St. Louis

Tecsun took a few design features from this set.

This will be the Grundig Satellit 750

Due out in March 2008 – still waiting!!

The BCL 2000  in Red &

Black

from Tecsun is now three years old.  Broadcast band covers to 1640, Grundig/ Eton covers to 1740.  We are finding some to be dead shorted in reports from other owners.  I have not seen this but must be a design defect.  The Tecsun seems to perform better on the AM band, the Grundig drops off at the lower end (540 – 700) Pictured here is a very rare Grundig in RED, it is the only one we have seen.

A RED 350 with blue dial scale is now out there.
Grundig S-350 in red -the only one we know of.
Price is way high!! $1200 free shipping
Eton 350dl has larger speaker/stereo headphone.
350 DL dial lights up in cool blue when adjusted!
Scott is just like the Grundig S-350 (AM Exp Band)
Tecsun, Mason, Coby look similar, not performance.
Tecsun R333 used 3 D cells, digital plays forever!
Bell & Howell from Tecsun? AM-FM-TV-SW
Twin speakers, wide band tuner. $125 + shipping
Snooze Alarm, no name -Tecsun? $125 +ship
| | |
| --- | --- |
| 1949 Grundig Boy portable radio – bg | 1951 Grundig Reporter tape recorder – bg |
| | |
| --- | --- |
| 1951 Grundig radio-phonograph included the the Reporter 300 tape recorder – bg | 1954 Grundig Stenorette, the company's first dictation tape recorder – bg |
| | |
| --- | --- |
| 1955 Grundig Music Cabinet 7080 – bg | 1957 Grundig TK830 – bg |
| | |
| --- | --- |
| 1958 Grundig Pocket Transistor Boy – bg | 1965 Grundig C100 Cassette Recorder – bg |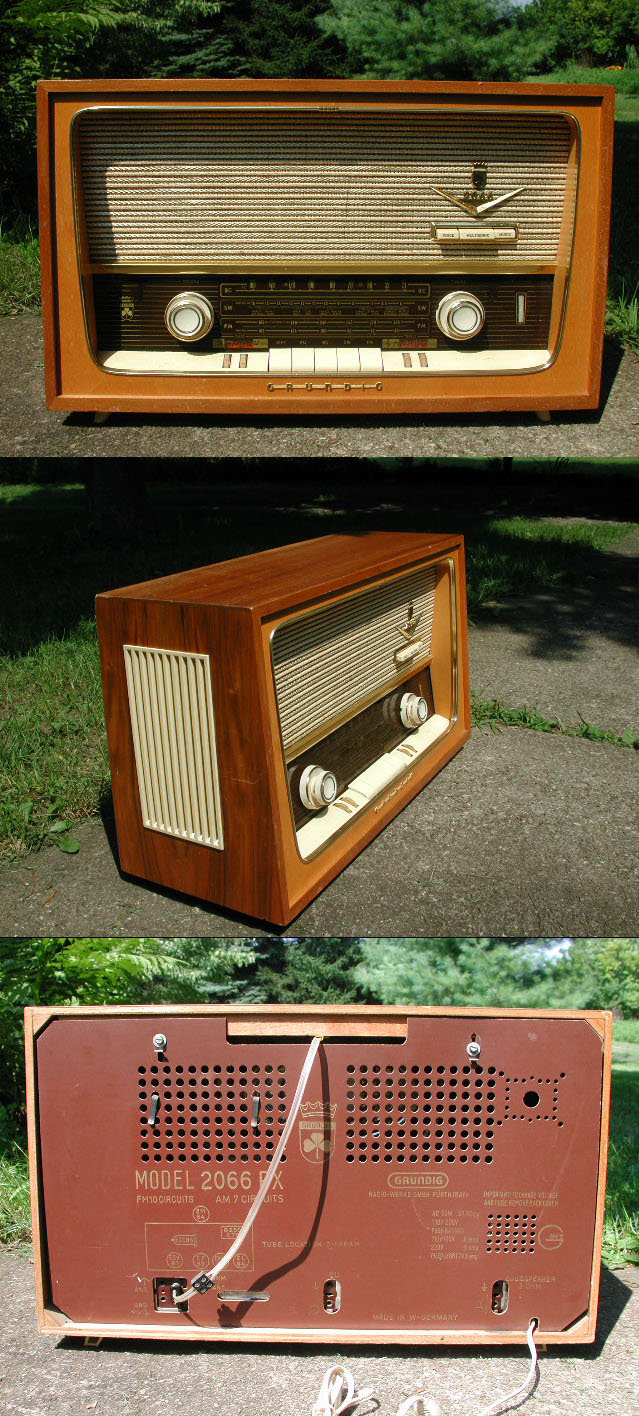 >


ACEC




AEG_Geatrix 301W_1928




AEG-Super Midinette61-1960




AGA-Phon




Akkord-Globetrotter




Akkord-Transola Lux




AREL211A -Belgien-1950




AutophonTyp T1S




B&O Hyperbo Senior 37




B&O_2




B&O




Blackbox




Blaupunkt6w69p1939




Blaupunkt-derby




Blaupunkt-Derbyh-1967


Blaupunkt-Lido
Typ 9530W-1065



Blaupunkt-Madrid H2253-1955-56




Brandt Jubilar 38W 1938




Braun_Type 5649W




Braun-RC32




Butoba Rueckseite




Butoba Tonband




Butova_DDR




Canzonetta_Graetz1970


Cassettenrecorder Sankyo
ST-60



Dansette222




Detektor1927




Detektor Eigenbau




Detektor




Dominante-Edelklang




EAK Super 65-66 WKS




Edison Phonograph




Air way Zweikreiser




El6400




Emud-Rekord 89WKN_1948




ERRES KY486-1948




Excelsior_52




Gavotte8




Graetz 290GWM




Graetz_EuroPage303_1991




Graetz-Canzonetta-1970




Graetz-Chanson02F-1966




Graetz-Joker834-1960




Grammont 5716




Grundig 165W




Grundig 840W_1953




Grundig  Type 98H_ 1964




Grundig Super 246W_1948




Grundig Weltklang 266W_1950




Grundig Weltklang 840W__1953




Grundig_C6000-Automatic




Grundig_Satellit_400_1986




Grundig-Boy186BGW-1950




Grundig-ConcertBoy1000




Grundig-Hit Boy310


Grundig-Konzertboy
Trans.200-1969



Grundig-Musik Boy1100




Grundig-Prima Boy




Hagenuk Nordmark648KW




Ilmenau 64-55GW




Imperial 612W




Ingelen Capello_Milano




Ingelen Mirabell




Ingelen_US-5378W




ITT-Touring international104A-1973




Kaiser W562_1950




Kaiser W1140 1954




Kapsch-Victoria52




Kaufhallenreklame




Killefit




Kleinsuper-Lolos




Koersa-Eigenbau




Kofferr.GMarconi_Mod




Kofferradio Libelle




Krieseler 11-71




Lange Typ L48aG


Lautsprecher Telefones
Le Las



Lautsprecher




Loewe Opta BellaRekord_32016




Loewe Opta-T49




Lorenz Ordensmeister3




Lorenz_Super 200W 1937




Lorenz-Koeln




Lumophon1 WD470




Lumophon Standart




Maco




Maj-623A




Malinka




Mende Type 192GW




Minerva 405W 1939




MinervaDKE38B




Minerwa 396W




Minerwa_300Cornette 1934/35




Minerwa




Minitonband  Jubilette




Motorrad_Radio




Musik-Center




Music-Center-Spulen innen




Nora 29GW




Nora-Rheinlaender




Nora-Rienzi W22L




Nora-Wechselstrom Super-Boston




Nord Mende – Combiphon




Nord Mende – Transita automatic




Nord Mende Bremen_258W




NordMende – Mambo




NordMende – Stradella2-609-1962




NordMende – Transitaspezial-1964




NordMende Skania4_613_1963_64




Nordmende-Elektra




Offenbach52




Ohne Firmenbezeichnung




Olympia66




Optaphon




Owin 71G




Pan_CrusaderXK




Philips




Philips B1D92ACO




Philips B4X23A-1962




Philips BX410Z-1951




Philips BX500A-1950




Philips BX520A-1952




Philips NL HX454A




Philips




Philips-Aachen-Super D62


Philips-Annette-L4D90Ab
1959



Philips-B2D93A




Philips-el3514




Philips Plattenspieler 1931




Philips-Sonate_BA581A




Philko Type 610 USA




Pilot_Litle Maestro




Qwin 71G




RABO II




Radione R9 1950




RCA_Viktor GE T-10




Red Star




Regent_652




Rfe19a




Rondo Zauberdose




RU2W 1937




Russischer Plattenspieler




Saba-330WL




SABA 310WL_1932




Saba 342WLK




Saba Sabine




Saba-Sandy




Sachsenwerk Europameister 325 WL




Sachsenwerk-Olympia 393WK




Saja-Tonband




Schaub Lorenz-Weekend80




Schaub Pirol GW 1948




Schaub Lorenz Touring140




Schaub Lorenz Touring70-Universal




Schaub-T22




Seibt Roland 33L




Siemens S91WLk 1939




Siemens SH511GW_1951




Siemens Super SB480GW


Siemens-Radiowecker
alpha-1970

Siemens-Radiowecker
RG309



Siemens-SuperA60s




Sonneberg2




Sonneberg_Carino530




Sonneberg




Stassfurt Imperial




Stassfurt W42




Stassfurt


Stassfurt Continental
W42 1923

Stassfurt-Imperial
W47-1936



Sternrecorder-Typ R160




Swinging-pool MB7




Tandberg-SOLVSUPER3




Tandy Radio-Eule




Tefi_Holiday




TefikofferKC1-KoII-1956




TEKADE-Kaminuhr




Tel.Jubilate1




Telefunken 31W




Telefunken 31W-innen




Telefunken 40w




Telefunken 40W innen




Telefunken 125WLK




Telefunken 165WK 1941




Telefunken B5




Telefunken DKE 1938




Telefunken T9




Telefunken T9 innen




Telefunken_Concertino2194




Telefunken




Telefunken-Bajazzo deluxe 1968




Telefunken-Bajazzo TS




Telefunken-banjo automatic201-1969




Telefunken-Coral 1936




Telefunken-Picnic




Telf. Caprice_Transistor_TL3291




Telf.Wiking




Tento UDSSR-Selena




Tischgrammophon-Klingsor




TOM-TEC-Design




Tonband-Privileg 100




Topas MTG23




UFO-PROUVO-Designradio




UHER




UHER_Report 4000




UndineII


Universum Radiowecker
W2821



VE301




VE301batterie




VE301-Volksempfaenger




VEB-SternRadio-Weimar80




Wega 864GW




Zweikreiser aussen




Zweikreiser innen