"Wretched beasties moving about very nimbly"
This is what Anton van Leeuwenhoek said about the creatures he saw in his 1670s microscope. The "Father of Microbiology" made over 400 different types of microscopes and discovered bacteria and spermatozoa, among other things…. among many, many other things. All these "beasties" live in enchanting world and can sometimes look very cute (witness waterbears) – and photographers keep discovering new angles and frontiers of their microcosm.
For a number of years Olympus BioScapes Digital Imaging Competition revealed to the world the intricate and highly-sophisticated wonders of the micro-world… With the exclusive permission of Olympus BioScapes, here are a few entries that particularly caught our attention:
The "Fairy Fly" wasp (left) and some iridescent part of the aptly-named "Jewel Beetle":


(images by Spike Walker and Charles Krebs)
Lobster Eggs:


(image by Tora Bardal)
Left: Live Daphnia… and the portrait of a fly (with a swanky hairdo):


(images by Earl Nishiguchi and Solvin Zankl)
Larva of Brachiolaria looks like a wannabe squid:


(image by Alvaro Migotto)
Peeking inside the wild cucumber (Echinocystis lobata) –


(image by Victor Sykora)
The eye of the honeybee (left). And the flatworm on the right seems to have a face. Pretty morose kind of face:


(images by R. Grimm and Greg Rowse)
Soap bubbles on the left look somewhat like Mandelbrot set, and Actinoptychus heliopelta on the right looks remarkably like a mandala:


(images by Karl Decart and Stephen Nagy)
(all images copyright Olympus BioScapes, used by permission)
————
Best Microscope Photos, according to Nikon Small World and National Geographic
Sponsored by Nikon, the annual Small World Contest showcases "the beauty and complexity of life as seen through the light microscope." See all the winners and honorable mentions here, and also presentation on National Geographic.
Nanotube Factory:
"Nanotubes are elongated, hollow cylinders of carbon atoms, just 1/50,000 the width of a human hair… Sometimes, the heated mass of nanotubes grows like a bulb in the spring."


Photograph by Paul Marshall/National Research Council Canada /courtesy of Nikon Small World
Drug Landscape:
The antibiotic powder mitomycin – "viewed through polarizing filters, the drug gave off colors that reveal its complex crystal structure."


Photograph by Dr. Margaret Oechsli /photo courtesy of Nikon Small World
A Chick Embryo:


Photograph by Thomas Pais de Azevedo of Lisbon, Portugal/photo courtesy of Nikon Small World
And if you (like us) can't get enough of microscope photography, then this link is for you: the gallery of photomicrographs by year dating back to 1977! – Click Here.
Another great set of microscope photos is here – "Zoomified", by Tracy E. Anderson.
————
Images of Pollen
Rippel Electron Microscope Facility shows images of Ipomea purpurea (Heavenly blue morning glory) pollen – see here, including three-dimensional ones.


Truly a heavenly mix:


(images credit: Rippel E.M. Facility)
————
Extreme Zoom! Nano-scale Explorations
A scanning tunneling microscope (based on the concept of quantum tunneling) and Field Ion Microscopy Systems allow us to see individual atoms (here is a good article about it) The first images of atomic structures were published as far back as 1951.


(image credit: National Institute of Standards and Technology)
Field Ion Microscope also allows to sharpen metal tips (usually tungsten needles) to the ultimate degree – producing The Sharpest Manmade Thing:


(image credit: American Institute of Physics)
What you see is a tip of that needle: the small round objects are individual atoms…
On the same site, you can also marvel at the World's First Nano Guitar – which can be "played" by shooting laser light at the silicon "strings":


(image credit: American Institute of Physics)
For those who love retro hardware: Soviet early-60s Electronic Microscope (featuring an electron gun) –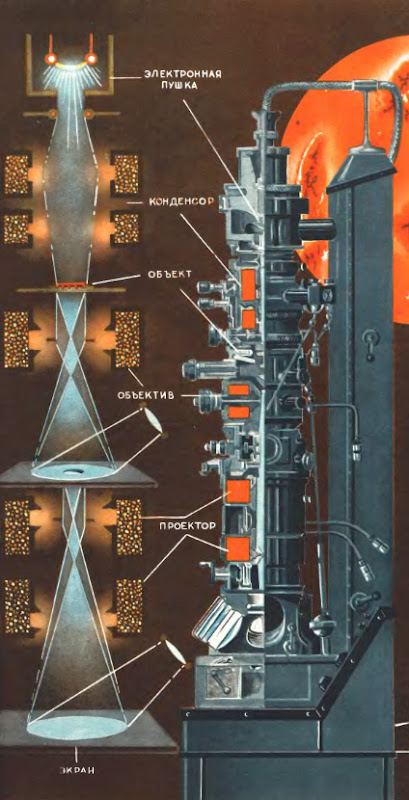 Bugs on Chips: Microelectromechanical systems MEMS are almost nano-scale micromachines… Here microscope photography helps to establish the size of these machines, compared to less than 1mm mite, or a mite's leg:


(images credit: Sandia MEMS)
Is this a microscopic Hong Kong? –


(image credit: Frans Holthuysen & Falco van Delft)
No, this is so-called Bosch process plasma etchings – image done for The 50th International Conference on Electron, Ion and Photon Beam Technology, see previous entries here.
Frog Embryos:


(image credit: Michael Klymkowsky)
Microscopic frost accumulating on a blade of grass –