Better on the ground than in the air
Short of the actual crash, most of the accidents depicted here occurred without loss of human life, and thus can be described as "Oops". There is a site "Aviation Safety" where many troublesome situations are listed and discussed, with full background information for each. What you will see here is a collection of images from various such occasions, sent to us by readers who found them or even witnessed the events.
On the Ground
The hazards start while the plane is still on the runway. Most of the time they are results of the "reckless driving" of the taxiing & service vehicles.


The accident above happened fairly recently – winter 2005 or 2006. The plane slid off the runway in the snow. A six year-old passenger in one of the cars on the street was killed.


(image credit: Michael Lashley)
The story for the accident below goes: "The mechanics failed to have someone riding brakes in the plane, failed to bring chokes and failed to set parking brakes on both aircraft AND the tug… and then they left aircraft unattended" –


Michael Lashley, as an aircraft safety inspector, have seen multiple occasions when aircraft was endangered by the careless driving of mechanics. The example below is credited to "Mechanics driving with no Hyd pressure for brakes" –


(images credit: Michael Lashley)
Sliced!
Ilyushin Il-62M Aeroflot at Anchorage in 1999, got sliced a little:


(image credit: xaminmo)
Plane chopped by the propeller of another plane:


(image credit: Eniac Jones)


(image credit: Darren Seiler)
The story on this rampage is playing out to the tune of a quarter of a million dollars – these are the damages for 4 destroyed planes. The poor guy who's responsible for this started the engine of his private Piper Saratoga plane – and then lost control, slicing through four other planes and crashing into the fifth…
Double-Deckers:


It does not help if there are some potholes on the runway:
(plus a bunch of construction equipment)


(sent in by Sergey)
or a huge snake:


(image credit: Michael Lashley)
Containers are not a good thing to digest:


Bizarre vintage service vehicle from Russia:


(source: TM, Russia)
Asleep at the wheel?


(images credit: Michael Lashley)


(image credit: p.roy1)


In the Air
All tangled up…


(image credit: xaminmo)
Famous occasion of the cargo doors opening in the middle of a flight:
(never a good thing, read for example this account)


(image credit: xaminmo)
Strange Landings


Broken Landing Gear:


(images credit: Michael Lashley)


(image credit: aviation-safety)
The tires… are gone


Blown engine: Southwest Airlines 737-2


(image credit: Joe Pries)
One-Wing Landing!


There is a fascinating story behind this (technically impossible) landing. Israel pilot Zivi Nedivi had a collision with another plane, but could not see that his wing was missing (because of trailing fuel vapors), otherwise he would've immediately bailed out. As it was, he proceeded to land, and had a greatest surprise when he saw in what condition F-15 brought him to safety…
Here is the video feature about this aviation miracle:
url
Hairy Landing on Ice:


Landing on a street somewhere in Russia? I can hardly believe it. Must be an abandoned plane.


The thrill of Photoshop:


and a real deal….


Washed ashore…


(image credit: Darryl Chapman)


Accidents Waiting to Happen
This chopper stunt seem to be quite common at Russian airshows. I wonder if it's really dangerous…


This is just an illusion of imminent collision, though:


Not an accident, but judging by the size of this engine, anybody coming close should be very, very careful:


Real Deal Catastrophic Events:


Don't want to be anywhere near these occasions…
Parking can be a problem, even for airplanes


(image credit: englishrussia)
Whatever you do, keep away from my van!
in 1983 Royal Navy's "Sea Harrier" fighter-bomber was forced to make an emergency landing on a small Spanish freighter, "Alraigo." These pictures were taken at the port of Santa Cruz de Tenerife, where the captain of the boat refused to hand over the plane: he got quite annoyed that the pilot chose to land on his van:

There are definitely situations that could've been avoided, and some that one might deem unavoidable; most of unusual cases are discussed on the "Aviation Safety" site – and we can only hope that there'll be gradually less of them to discuss.
Since our previous article in the series we've received various tips and pictures of many spectacular screw-ups in the air and on the ground:
On the Ground
Lost it somewhere: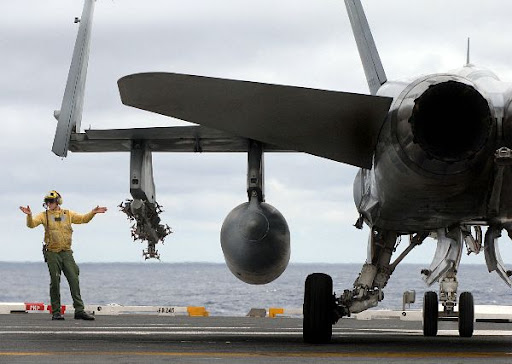 UPDATE: David Barak sent us his version of what is shown here; he suspects it to be TER: a Triple Ejector Rack "hardpoint" (some info here) There are various types of TER (see one here, for example), so what is shown here may be different.
Impaled by F-16 (barely missed the rockets) –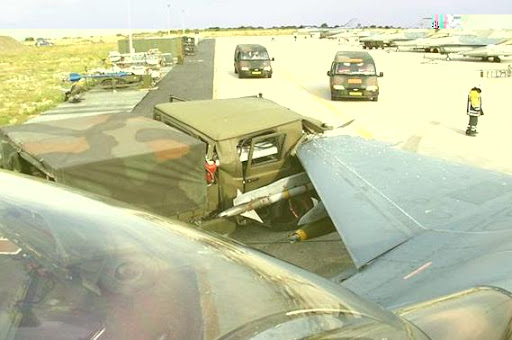 What's this between buses & airplanes?
(there are plenty of pics of them "kissing" each other) –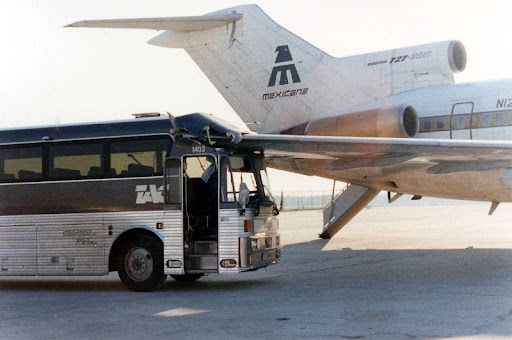 Korean Air Cargo (over)loaded in Miami airport: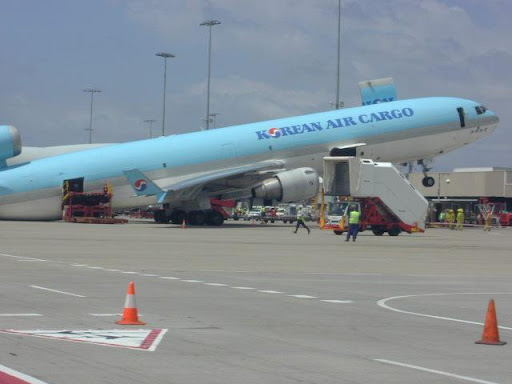 I wonder what happened here:
(did he try to flap his wings?)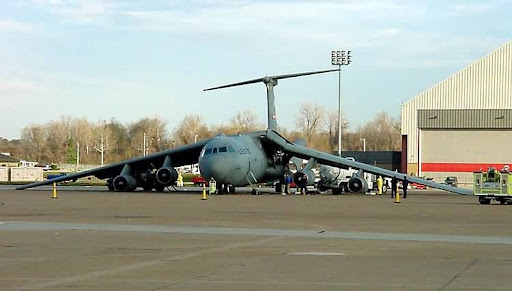 Must be good brakes: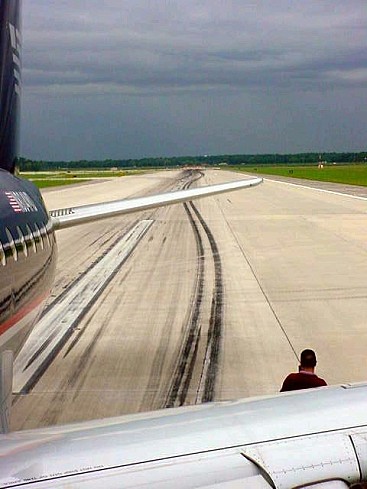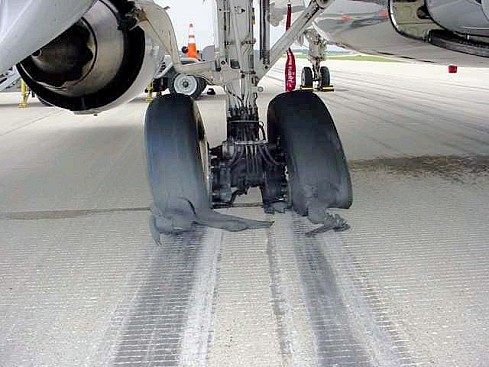 For perhaps the most extreme take off, watch this video of Congo pilots taking off small road with a nice turn in there, for added excitement!
In the Air
Indecent exposure: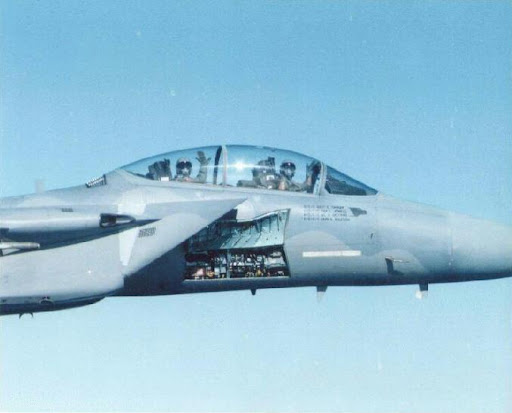 (original unknown)
Extreme encounters with birds:
Boeing 737 front damage: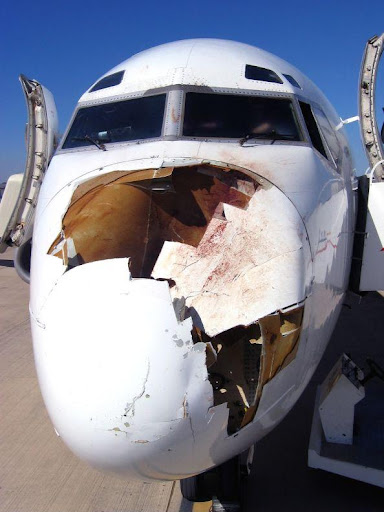 (image credit: hectop)
Bird in the engine:
(update: this is Photoshop)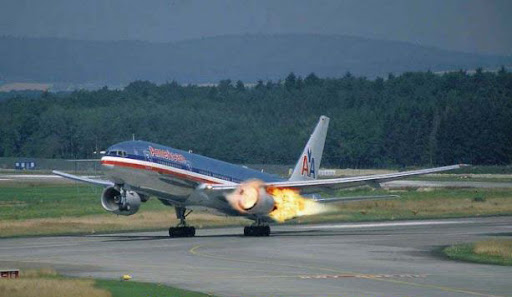 (original photo by: Florian Kondziela)
Also read this hair-raising true account of British military plane fying through a dense flock of Canadian geese. "After the accident 77 dead birds were found on or near the runway. It is not known how many others were ingested by the aircraft engines."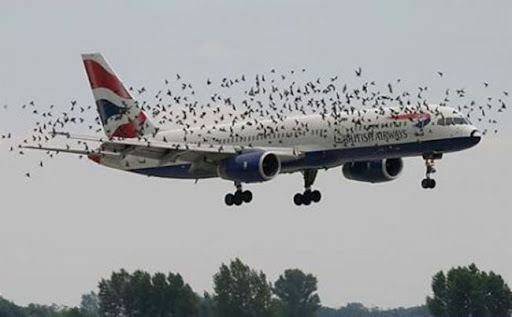 Break-up in the air
US Air Force animated reconstruction of the in-flight structural failure of a F-15C in November, 2007 (caused by fatigue cracking of a forward fuselage longeron), The crash occured near Salem, Mo. during training exercise.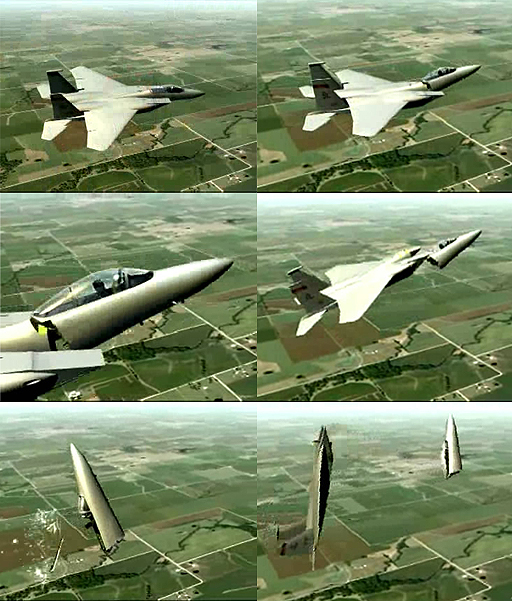 url
The pilot managed to eject, so there were no casualities, but US Air Force initiated investigation, in the meantime grounding all F-15 planes. The military currently seeks to replace all of its aging F-15s.
Here is where the fatigue cracks occurred: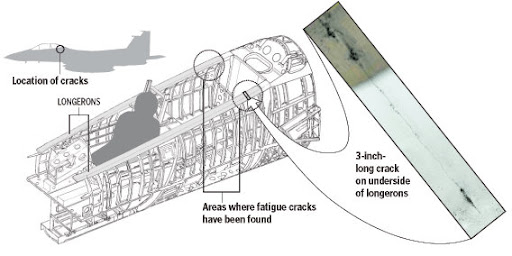 More "jumping ship", from Russia this time –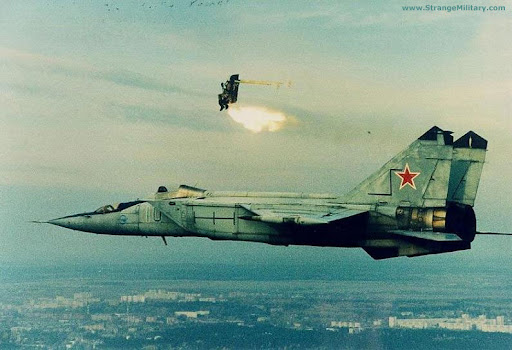 …and a Canadian Armed Forces Pilot ejecting from a T -33 jet: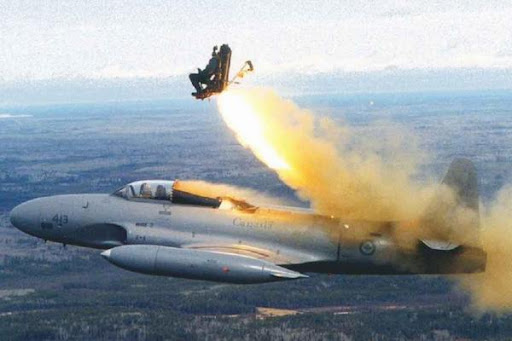 Strange Landings
Famous "Jet Blue" incident. "The front landing gear was turned around 90 degrees and couldn't be retracted. The pilot had to circle the airport for two hours to burn up fuel so that the plane was less likely to catch on fire when it landed. Meanwhile, passengers were able to watch live news coverage of the ordeal on in-flight TV."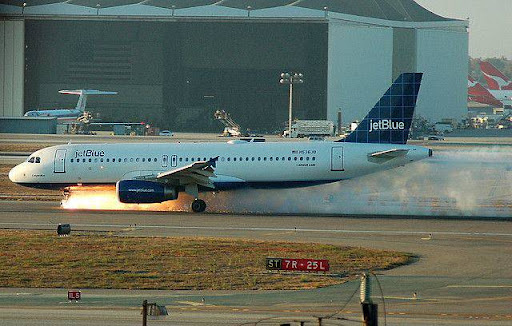 Front landing gear seems to be a frequent "Achilles' heel" of aviation: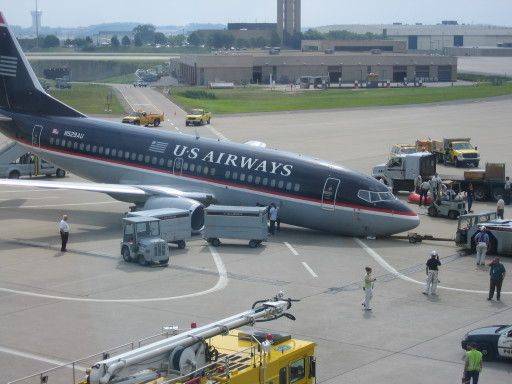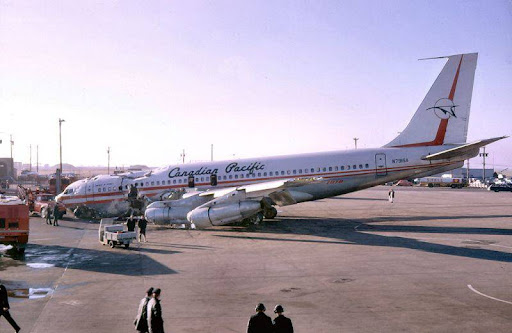 Just don't try to lift it up by yourself: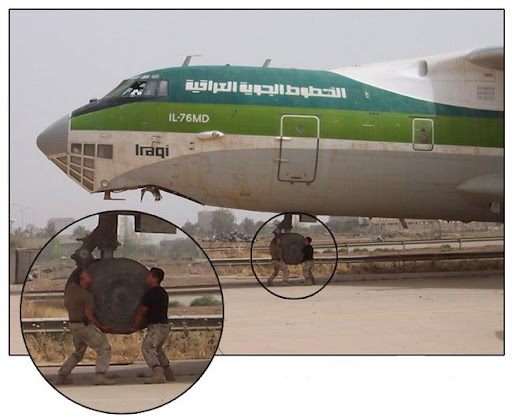 This flying machine seems to be better equipped for landings:
("Flinto" – an addition to Ford Pinto, very rare)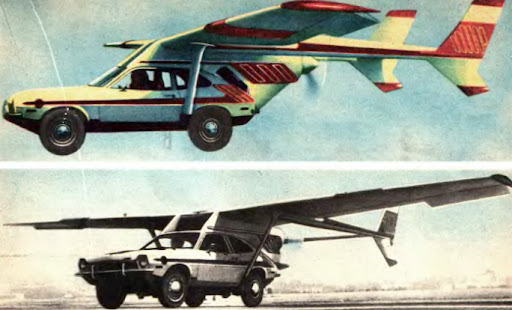 Military is not immune to botched landings: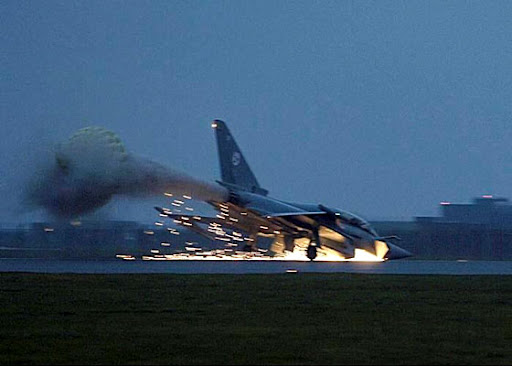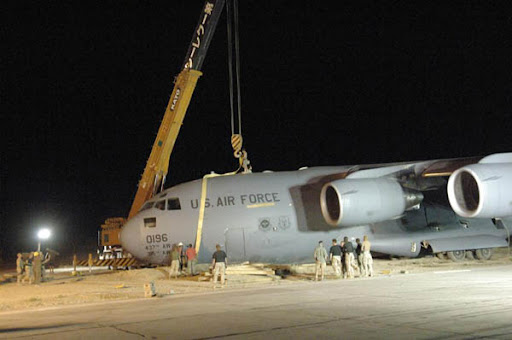 (image credit: Holger Loersch)
He made it home! (I wonder what he hit) –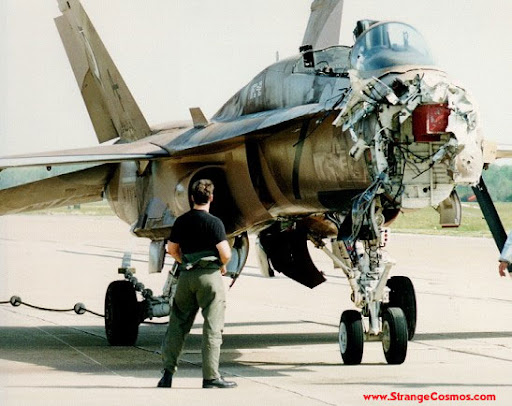 (image credit: StrangeCosmos)
Overshooting the deck –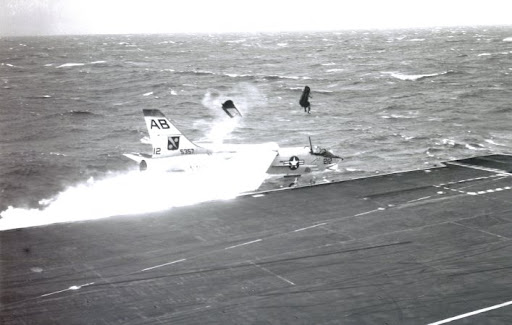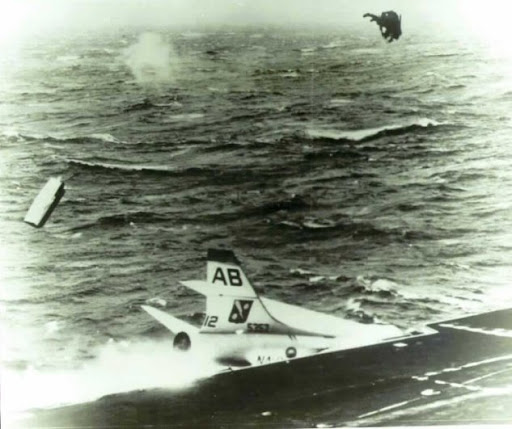 Entangled (good catch!) –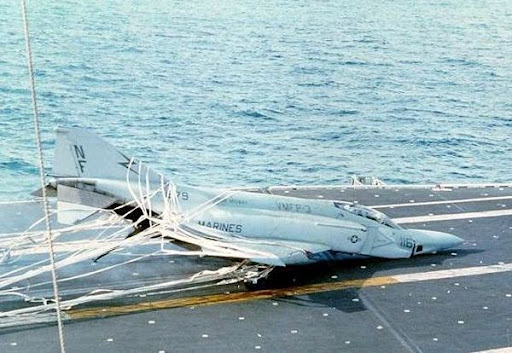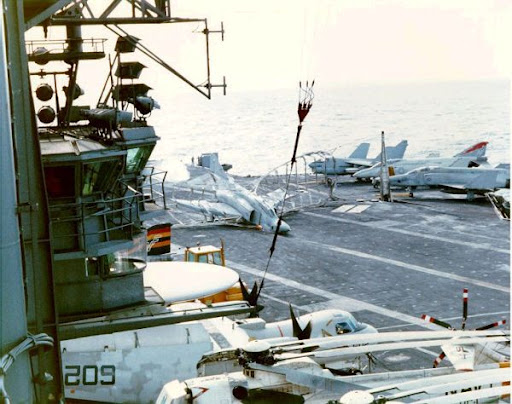 I wonder if they were able to lift this jet up? –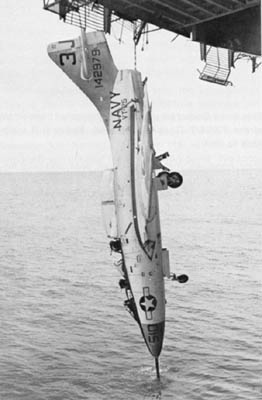 This picture seems to be the test explosion of a bomb during landing: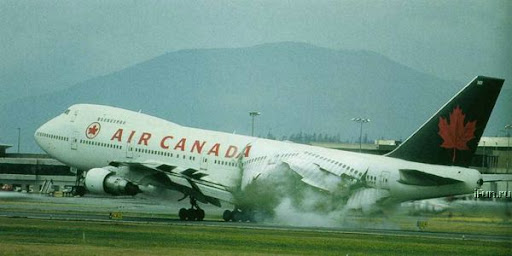 A chunk "eaten" off
In Pointe Noire, Congo, Russian AN-12 plane wandered off the landing strip during landing, slicing a few planes in the meantime:
(among them Being 727 from truly bizarre African "Canadian Airways Congo" airline). Two pilots of AN-12 were injured. I just hope nobody was in the fron compartment.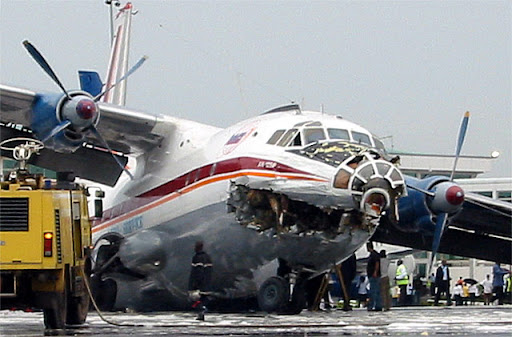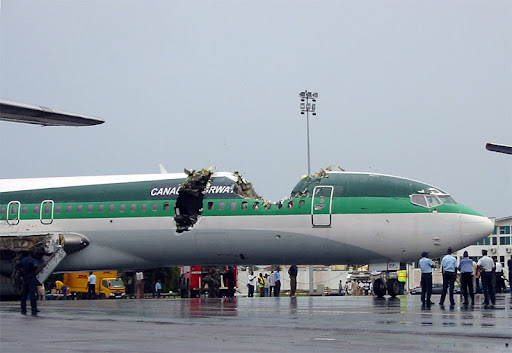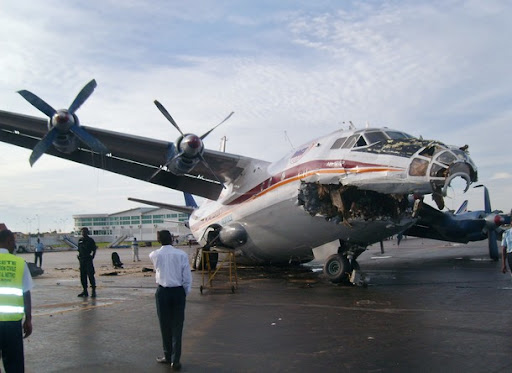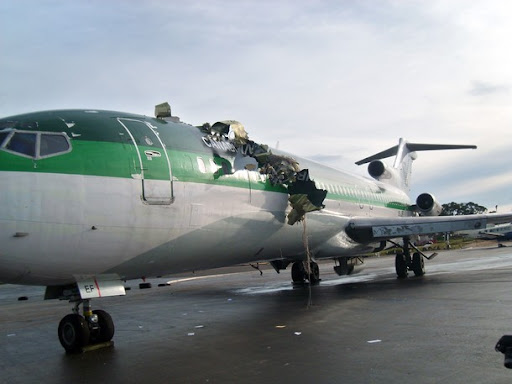 (photos by AFP/Scanpics)
Crosswind approaches
You probably have seen the classic "near crash" landing (see here) that occcured recently in Hamburg. However, the following video shows very skillful piloting by canadian pilots of A319 during a particularly strong wind conditions in Montreal:
Finally, some unexplained shots:
How did this happen?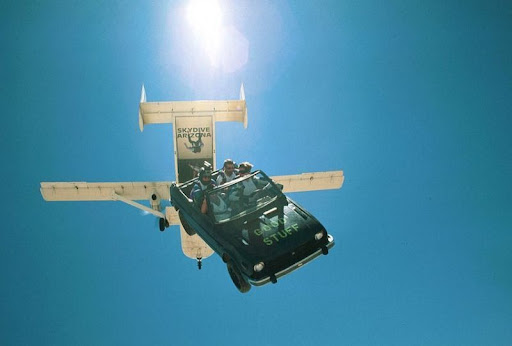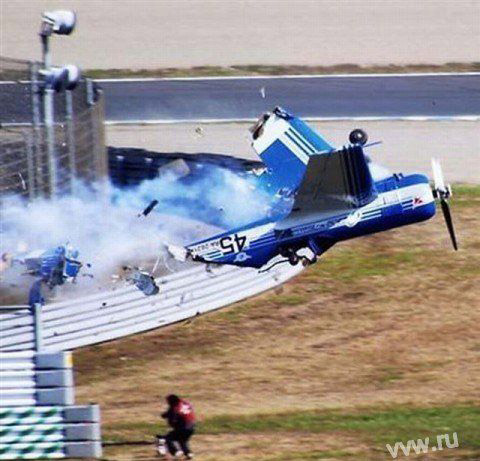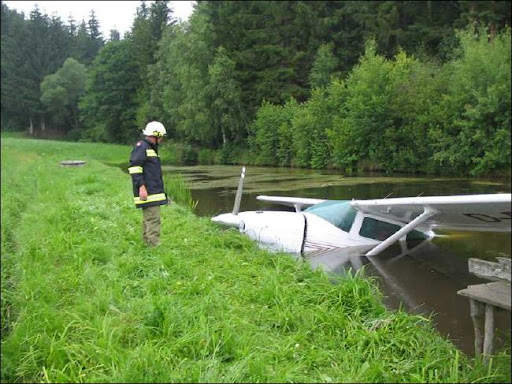 Fill'er up! –
(more info on this "landing" here)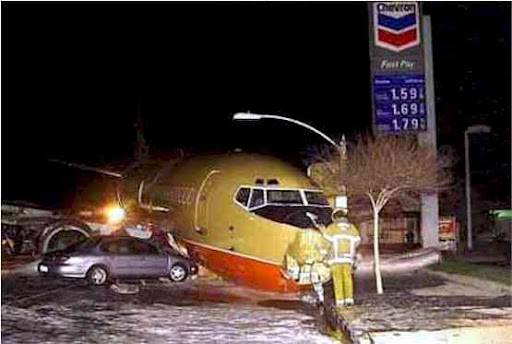 Could it be a shot from some movie? – Update: "Lord of War" with Nicolas Cage.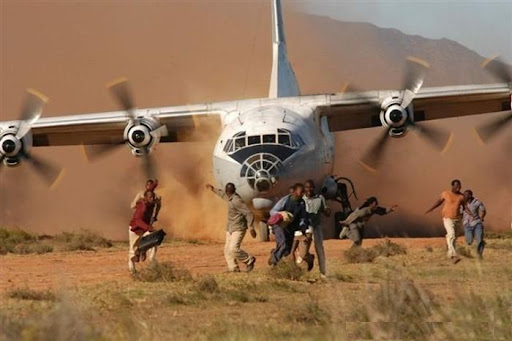 In-flight maintenance? –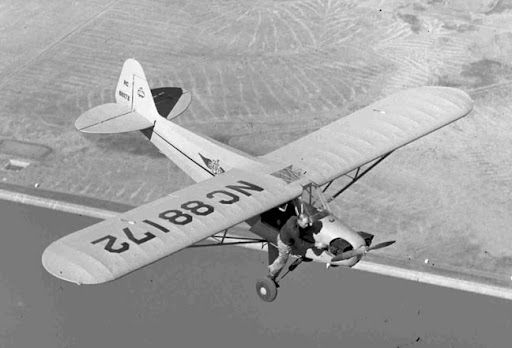 Maybe the cause of all mechanical trouble is the kind of tech support some airlines hire? –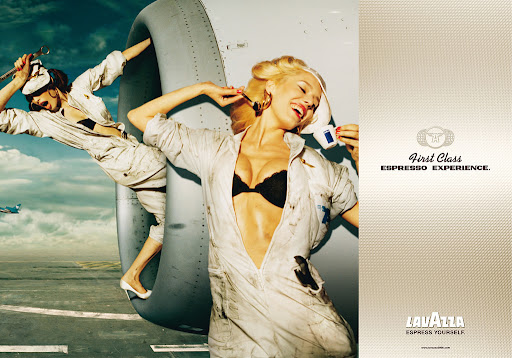 If all else fails, try to repaint your plane: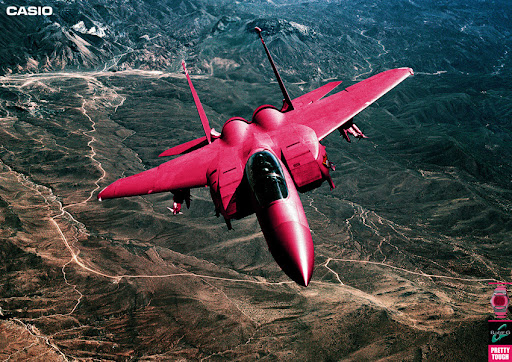 or change (fix) your signage: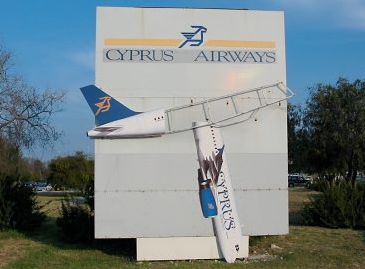 No real trouble, just a stunt flying… pretty hairy sometimes –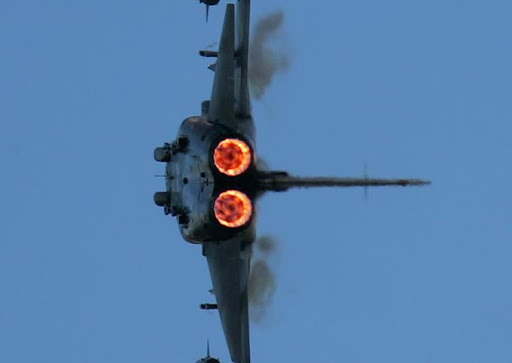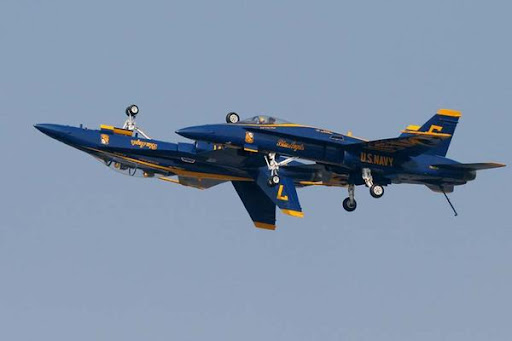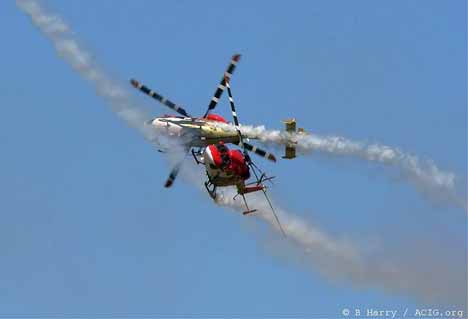 (photo by B. Garry)
PronAir Boeing 747 radical lift-off: