(image credit: colani.de)
This is the Coal-Dust-Powered Steam Locomotive for Siberia, 1979, more precisely for the BAM (Baikal Amur Mainline). I have no trouble imagining these beasts devouring infinite taiga-covered miles, no trouble at all. Too bad it did not materialize (BAM itself was not properly finished) –


Mono-track ideas? Sure. Here is an experimental shape for the Hamburg-Munich line "HM-1" –


More ideas for the aerodynamic high-speed trains:
(I wonder if Japan is going to use any of them for their Shinkansen "bullet" trains)


Outrageous Transportation
Giant Flying Boat (Ekranoplan) "The Lida", 1983
Considering the Soviet love for ekranoplans ("wing-in-ground" vehicles), it is really surprising that they did not actually made this beauty:


(image credit: colani.de)
Even larger one:


This is what I call truly radical aircraft concepts
Some of them beg the question "Why not?" (like this sketch done for the Japan Air Lines) –


…and others will leave you scratching your head, but also – perhaps considering the thought that the modern aviation is long overdue for a design overhaul:


Cars & bikes that will re-define luxury (again)
More recent design for the streamlined mobile home:


Horch Luxury Automobile design (so over-the-top that no apologies are necessary) –


(image credit: colani.de)
Check out this hood ornament:


More incredible aerodynamic shapes: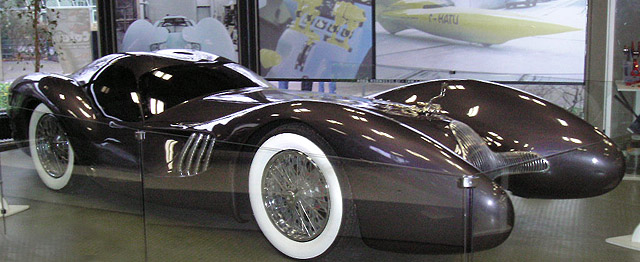 "Frog" – aerodynamic study for a motorcycle, 1973:


(images credit: Rolf Frohle)
Many of his shapes will haunt your sense of beauty – you can either love them, or hate them, there is no middle ground. However, this is the essence of exciting design: to challenge the predetermined (and possibly stale) mainstream sensibilities. Luigi Colani has been doing this like no one else since the 1970s.
Final image: This is how our space program could look, if designers like Luigi Colani had their say –

A dream of high-tech splendor balanced on a single rail
Why use two tracks when you can have only one, or no track at all (magnetic "levitation")? Same sort of logic gave us mono-wheel vehicles, Segway, and today is used extensively for public transportation in high-density urban areas. Ladies and gentlemen, allow me to present to you, for your amusement and edification, one of the strangest and counter-intuitive ways of getting from point A to point B: the monorail.
While the concept of possibly traveling across a city, and/or across the landscape, on monorails has become close to acceptable these days – or even grudgingly acceptable – back in its infancy visionary proponents of this form of transportation instead saw a future where everyone, everywhere, moved in gleaming high-tech splendor balanced on a single rail.


top image: The George Bennie RailPlane System of Transport, see below, via – bottom image via
Early Dreamers
One of those first dreamers was Henry Palmer, whose creations worked the docks of London for many years – and even carried quite a few passengers. Terrified of falling over, to be sure, but passengers nonetheless. Other inventors, like Ivan Elmanov in Russia and Charles Lartigue, the French Engineer, saw their dreams made in iron and steel and even – in the case of Lartigue – were able to ride their visions and see them as, albeit short-lived, successes.


Left image – Schwebebahn in Barmen-Elberfeld, via — Top right: 1876 – Philadelphia Centennial steam-driven monorail (by General Le-Roy Stone) — Bottom right: 1911 – William H. Boyes Monorail (Seattle, Washington), via
An interesting early 1910s application of monorail technology is U.S. Senate Monorail (1912) – carrying senators along the tunnels under the U.S. Senate building on the "shortest and most exclusive railway in the world." (read more info) –


(image by Library of Congress, via)
To be fair, some of these early designs were more thought-out than you might think – though the actual engineering was naturally a bit primitive. Some designs used a single rail for both balance as well as power (either balanced by a gyroscope or hanging by an overhead support), while others kind of 'cheated' by having a single rail for balance and then a second wheel off to the side for propulsion.
Propeller-driven "The Bennie Railplane" – "The short test track was built over a railroad line near Glasgow, Scotland. Two electrically-powered propellers delivered 240 horsepower in a short burst for acceleration to the cruise speed of 160 kph. There were plans for a high-speed link between London and Paris, with a seaplane to carry passengers across the English Channel, but the grave economic difficulties of the 1930's doomed the Railplane from the start." (source)


"The Bennie Railplane", via
Russia's Imperial Monorail, 1900
Russia has a long history of playing with monorail concept – as far back as 1820, in the small village of Mychkovo, Russian inventor Ivan Elmanov built an elevated single-track: the horses would draw carts sliding over the wooden pole "rail". The idea became even more popular in Russia than a normal steam train at the time (old salt mines in Crimea used Elmanov's monorail, for example):


(image via)
Another Russian inventor Ippolit Romanov asked permission from the Romanov royal family to build an elevated monorail in the city of Gatchina, and got the blessing of the Russian Imperial Technical Society. The road was constructed in the best Victorian fashion and received its first passengers in June, 1900 –


(images via Alexey Dedushkin, "Niva" newspaper, 1900)
After that, much more ambitious project, a high-speed monorail (with speeds up to 200 km/hr) connecting St.Petersburg and Moscow was considered and declined for the lack of funds. An image of projected huge terminal station survives (see the whole series of "Moscow of the Future" from 1900s – click here) –


The Oldest Monorail System in Operation: Steampunkish Wuppertal Schwebebahn
Wuppertal Schwebebahn (Suspension Railway) opened in 1901 along the Wupper river and remains in operation for more than 100 years. Perhaps it is the biggest miracle that it remains profitable and safe, economical and simply gorgeous (with new or vintage cars). It was designed by the Civil Engineer Eugen Langen of Cologne:


(images via 1, 2, 3, 4, Life)
1930-1970s always saw the future as balancing on one rail
While the early 20th century didn't see a lot of huge developments in one-rail trains – except for here or there earnest experiments and limited uses – the 1920s and 30s were a boom year for the monorail in the pages of science fiction and techno-gee-whiz magazines like Popular Science and Modern Mechanix.


(images via 1, 2)
For some reason the brilliant artist of these and other magazines always saw the future as balancing on one rail. Their images are bold and daring, a plastic … or more like bakelite … glowing and chrome gleaming tomorrow of pipe-smoking, hat-wearing business men and balloon-toting and picnic basket-carrying children and wives zipping across meticulously manicured landscapes at the astounding speeds of 300 miles per hour.


(image via Modern Mechanix)


Arthur Radebaugh, "Metro Metropolis", images via
Amphibious Monorail – Designed to traverse the deserts of Turkmenistan (and to bring economic development to the area rich in natural resources), this Soviet "dream train" would turn into a boat for the independent crossing of major rivers. This "boat-train" idea may seem a little far-fetched, until you consider the projected link between Siberia and Alaska: a fleet of amphibious transport vehicles could be a viable alternative to building a costly tunnel.


Cover of "Popular Science", July 1934 (fragment), images via
Dreaming along similar Tomorrowland vistas, Disney's imagineers adopted the monorail as the futuristic way of traveling around their famous amusement park:


(images via 1, 2)
Other engineers looked to this high-speed, or at least futuristic, way of travel as well, getting their visionary monorail systems installed in Japan (naturally), Seattle and a few other rare urban experiments.


Soviet monorail car, 1967, via


(images via 1, 2)


Monorail in Singapore, image via)
Magnetic Levitation: "Flying on the Ground"
It's ironic that a system put in place – sometimes — as a way to bring the future into the backward world of today would now be seen as a realistic future mass transit alternative – all because of magnets.
Well, Maglev to be precise: "magnetic levitation" to you and I. The principle is simple: put the plus pole of a magnet to the plus pole of another magnet (or negative to negative) and you get resistance, that fun little 'repulsion' that's delighted kids since magnets were first discovered.
Shanghai-Pudong Magnev Monorail (top speed 501 km/h – 311 mph)


While this propulsion method was often included in those chrome and bakelite futures of one-railed, high-speed trains it wasn't until recently that the idea of using magnetic levitation has been taken seriously as a mass transit alternative. It seems that one of the best ways of using Maglev is as the lift for a monorail system – as test beds around the world have proven. Proven so well in fact that Maglev trains hold the current 'fast train" record at Modern Mechanix, Popular Science astounding speeds of 361 miles per hour.


(images via 1, 2)
It's fun to look back at those old pulp dreams of tomorrow, at their bulbous machines and glowing tube control panels, their mountain-sized turbines and silo-proportioned engine cylinders and barely suppress a superior smirk at how they – charmingly, to be sure – got it so wrong, but, who knows, maybe sometime soon we'll be doing that smirking while we silently blast across our own carefully maintained landscape as passengers in 300+ miles per hour, magnetically supported, one-rail trains.
Discarded Ideas
A few concepts that did not make it in public transportation (single-rail or no-rail). First, some ideas for those on a limited budget:


(images credit: Alexey Andreev)
An interesting futuristic vehicle, that made appearance in the popular German science fiction show "Perry Rhodan" – A Cable Police Car, concept by Georg Joergens:


Swiss engineer Mr. Gerdes astride/inside his one-wheel motorcycle, 1931
See Chinese Military in modern times enjoying monowheels (presumably for balance training, but maybe simply… for fun?) –


Monowheel is popular for travel between remote Russian villages:


Some outlandish mono-wheel concepts from 1925 "Science & Invention" and "The Electrical Experimenter" in 1918:


Wacky time of Victorian experimentation
Back in the 1860s, bicycle design was by no means uniform. Engineers were still widely experimenting with Velocipedes and bicycles, tricycles and quadricycles powered by pedals, treadles or hand-cranks. It was in that wacky time that the idea of the even wackier monowheel was born; a vehicle with one large wheel with the rider and drive-system inside its circumference.


Rousseau of Marseilles wheel; right – The Jackson Monowheel: both are from 1869
Just like other human-powered road vehicles of the time, early monowheels are powered either by pedals with a friction-transmission onto the outer wheel or hand-cranks directly connected to the wheel axle. There was also one idea of a horse-drawn monowheel:


But who was first? Patent research shows there was some pretty fierce rivalry going on. Georg Bergner from Washington, Missouri managed to get to the patent office with his 'Monocycle' design just hours before Allen Greene and Elisha Dyer from Providence, Rhode Island showed up with theirs on that summer's day of June 22, 1869. And there was even a third American monowheel patented that year by Richard C. Hemmings from New Haven, Connecticut.
All three of these monowheels are hand-cranked, only the Greene & Dryer patent has a number of bulging wheel spokes which make it quite an acrobatic manoeuvre to get into the contraption, while two support struts stop it from falling over. That year also saw the introduction of two further pedal-driven monowheels in France, followed by several similar machines in the 1880s and 1890s.


The Greene & Dyer Monowheel: 1869


Lewis Harper, unknown date for this concept; right – wheel by Richard Hemmings, 1869
Become your own gerbil
Now you need just one good look at a monowheel to spot some of the dangers involved: keeping the damned thing in balance is difficult enough, not to mention the danger of rotating along inside the wheel during quick acceleration or braking. The latter effect is also known as 'gerbling', but was not a serious problem until the motorization of the monowheel.
So no, in case you are wondering, neither the introduction of the highly sensible Safety Bicycle – characterized by having two wheels of identical, or nearly identical size and a chain-driven rear wheel – or the motorcycle in the mid-1880s stopped monowheel inventors:


M. Gauthier's wheel, 1881; right – Harper's monowheel: around 1892.
The first motorized monowheel
Although the motorcycle had already been invented in 1885, it took another two decades for the first inventor to fit an engine to a monowheel. The first motorized monowheel seems to be the Italian Garavaglia machine, shown at the Milan Exposition by the House of Garavaglia in 1904. The driver in the photograph sits relaxed in his stool with the steering wheel in his hand, but the whole display seems to be balanced by a smaller stabiliser wheel on the side.
A second, slightly better design for motorized monowheel appeared in France made by Erich Edison-Puton in 1910 and powered by a 150 cc single-cylinder De Dion engine of 3.5 hp. Here the driver sits inside the wheel more like the position on a normal motorcycle.


Garavaglia Machine, 1904; right – Erich Edison-Puton in 1910
A propeller-driven monowheel
As if the concept of the (motorized) monowheel itself was not dangerous enough, American inventor Clinton T. Coates got the 'brilliant' idea of fitting propeller-drive to one. His design, patented in 1911, features a monowheel with a push propeller at the back. The advantage of this arrangement, however, is that the propeller always pulls or pushes the wheel forwards, without relying on the weight of the rider and engine to provide reaction. There is therefore no possibility of gerbilling due to incautious acceleration, but it could still happen during braking.


The D'Harlingue Monowheel, 1917; right top – Popular Mechanics 1914; right bottom – The Coates Monowheel, 1912
Within the next few years, Alfred E. D'Harlingue – also from St. Louis – actually built a propeller-driven monowheel, which appeared on the cover of Popular Mechanics magazine in 1914. His design, however, features a front-propeller fitted directly onto the engine that can be swivelled for steering. The engine steering mechanism is fitted onto a backbone chassis running to a contra weight at the back. The driver sits quite high from the ground and almost upright with the tubular chassis running between his legs.
"Gerbilling" is counter-effected by two small wheels at the back and two spikes at the front, which also protect the propeller blade, but seem more like a recipe for disaster than a safety measure should the entire apparatus rotate forward at high speed and the spikes bore themselves into the ground.


In 1915 D'Harlingue also patented a propeller-driven monowheel with the engine in the centre of the wheel, driving a front-mounted propeller via chain-drive and the driver sitting on a seat behind and outside of the large wheel.
A New Terror of the Road
"A New Terror of the Road", headlined the February 1923 issue of Everyday Science & Radio News. No, this was not a reference to the propeller-driven machine by D'Harlingue: on the front cover was a monstrous monowheel creation by a Professor E.J. Christie of Marion, Ohio.
According to the article, this machine had a centre wheel with a diameter of 14 feet with smaller 'gyro wheels' on either side weighing some 500 pounds each. The centre wheel was powered by a 250 hp airplane engine, which Christie hoped would give this "Mother of all monowheels" a top speed between 250 and 400 kph. Although the front cover of Popular Science Monthly from April 1923 depicted it on a racing track, we have no idea what ever happened to Professor Christie.


on the right – "Everyday Science & Radio News" for Feb 1923
Across Europe on a Monowheel!
The 1920s, however, also saw the introduction of a few more 'sensible' motorized monowheels, which were really aimed as useable one-wheeled motorcycles. One of these was the mid-1920s Italian Motorouta that was actually produced in limited numbers. According to an advertisement of the time this machine had a 175 cc engine coupled to a 3-speed gearbox. It must have worked reasonably well, since a Swiss engineer by the name of Gerdes set of with a Motorouta machine for a rather grand trip from Switzerland to Spain in 1931. We know that he made it to Arles in the south of France, but whether he ever reached Spain is unclear.


"Motorouta"; right – Davide Cislaghi wheel, 1923
"Dynosphere" for the geek driver in all of us
Another fascinating chapter in monowheel history was written by a chap called Dr. John Archibald Purves from England, who seriously believed that one huge wheel encompassing five passengers was far more efficient than a car with four (smaller) wheels. In 1932, Purves designed the remarkable Dynosphere.


This monowheel differed from other designs in various ways. For one, it was wide enough to stand up by itself, without the need of continuous and rather tricky balancing. The outside of the wheel was part of the surface of a sphere, so that it did not touch the ground over its entire width and could be tilted sideways for steering. The outside consisted of a metal framework, so that the driver could look through the openings in the wheel frame.


(pictures provided by David Worth and Tom Anable)
Purves built a few different prototypes that were either petrol-driven or electrically powered. These machines were tested on the beach at Brean Sands and at Brooklands racing track. A short surviving film clip of the latter shows the difficulty in making a smooth ride – even at fairly constant speed – without the occupants gerbilling back and forth inside the wheel. It has even said to have knocked someone over during this test-run because of the inadequate stering system. The project was soon abandoned after that. The last known news from the project was a finished model of a five-seating Dynosphere with an enclosed glassed-in cabin, complete with bumpers and headlights.
link
Here is the weirdest incarnation of Dynawheel, strange enough to reproduce the whole page (from Modern Mechanics, June 1935) –


(image credit: modernmechanix.com)
The 1930s saw a couple more unsuccessful monowheels, including the Monowheel Tank Project that never progressed beyond the drawing board, after which it was quiet for decades, when the monowheel made a come-back.


(image credit: modernmechanix.com)
This is only Part 1, the nex will cover the rest of weird mono-wheel vehicles from 1930s to our days, and in the possible follow-ups we will also show some weirdest two-wheels known to man:


Here is, for example, pretty modern Mono-Wheel by Ben Wison (more info) –


And another one – just to whet your appetite: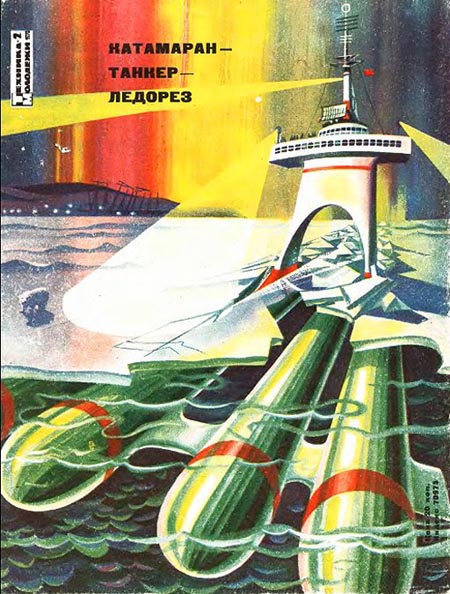 (art by TM, Russia 1974)
Fantastic Avionics
Russian concept of the rotor-plane, 1960: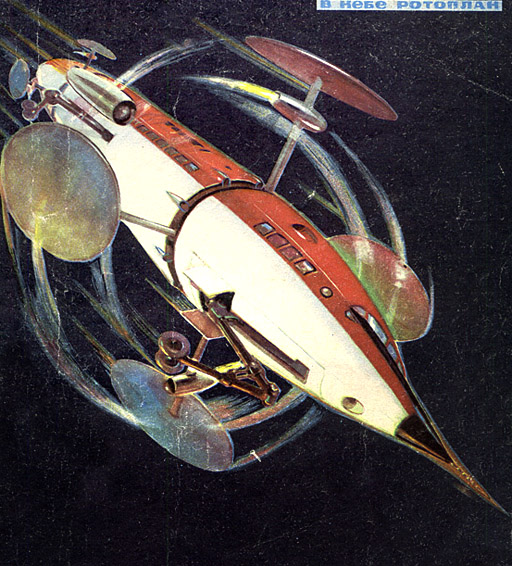 Soviets also proposed to stick together a bunch of big airplanes to make a REALLY huge one. Kind of like a Lego dream come true: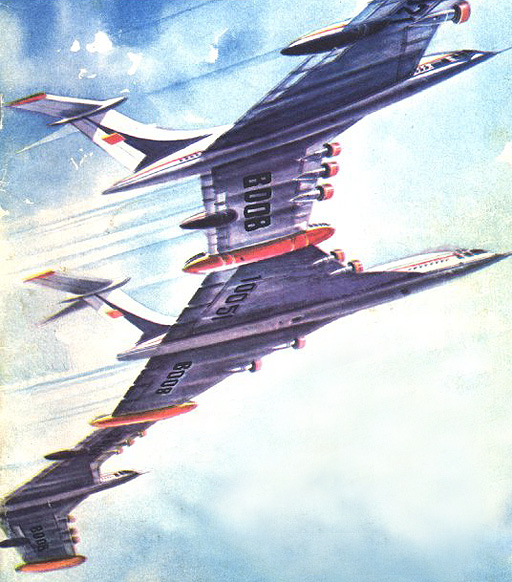 (art by TM, Russia 1966)
This American concept shows the ultimate helicopter:
(at least the largest we've seen drawn on paper)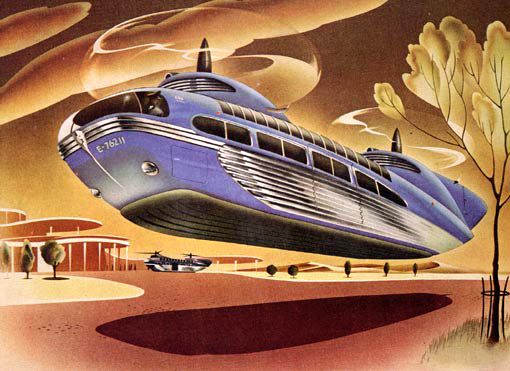 (art by Radebaugh)
An interesting helicopter also can be found inside this issue of Startling Stories, 1940: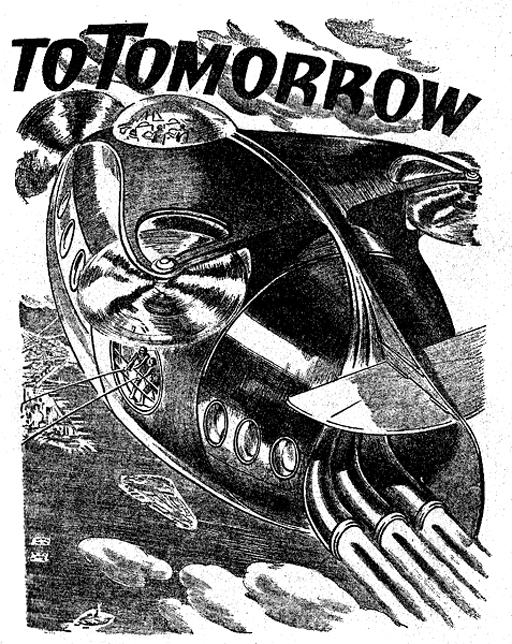 Ekranoplans & Hydrofoils
Ahhh… How can we not mention the "wing-in-ground-effect" liners? Russia was crazy about ekranoplans and hydrofoils for some time. Here is an ultimate replacement for a passenger airliner:
"The Glider" super hydrofoil, 1960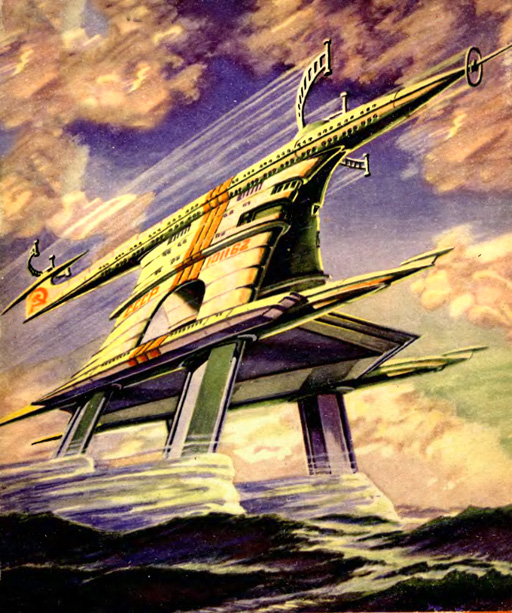 and a huge passenger/cargo ekranoplan:
(click to enlarge)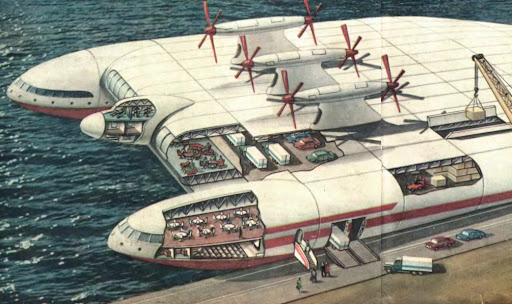 (art by TM, Russia 1965)
German version of water/highway transport system, more focused on personal transport: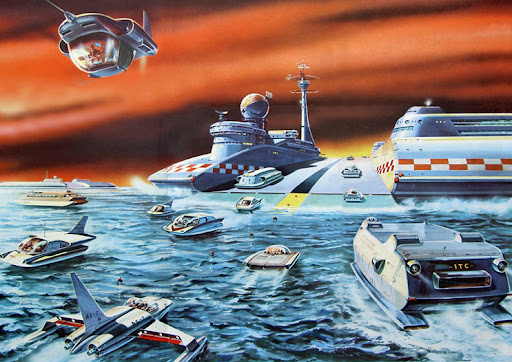 (image credit: retro-futurismus.de)
Russian Spiral Vehicle
This is a vehicle that literally "screws around a lot" to get somewhere. Never mind the possibility of it being built (there was actually some talk about prototypes spotted in the Russian Army), the vehicle like this would need a lot of "personal space" while it moves. Nobody wants to end up wrapped around the spirals like some kind of spaghetti.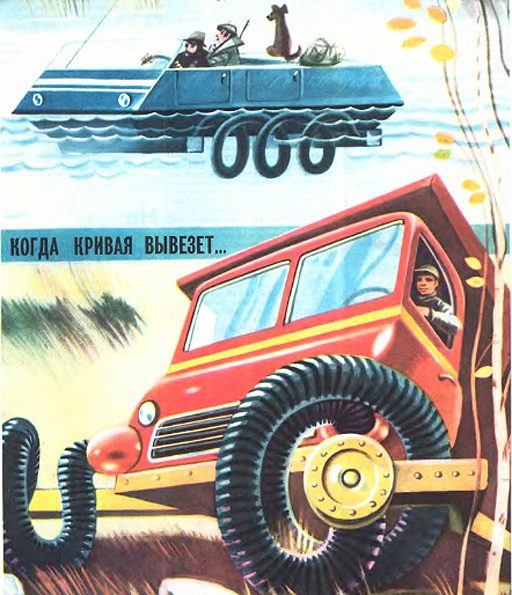 (art by TM, Russia 1961)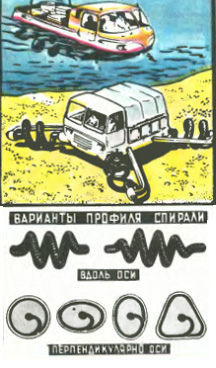 Spirals/ screws were popular in the US, too. Witness "The Sea Slug" –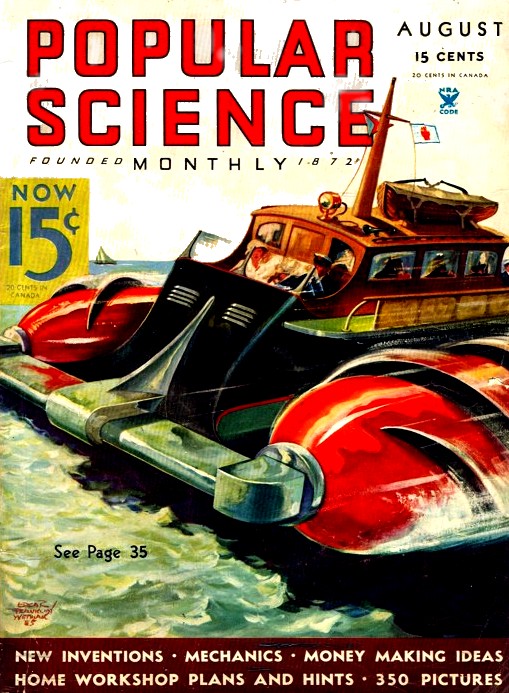 Russian climbing robot personal vehicle. Good to climb the walls of your office building when late for work: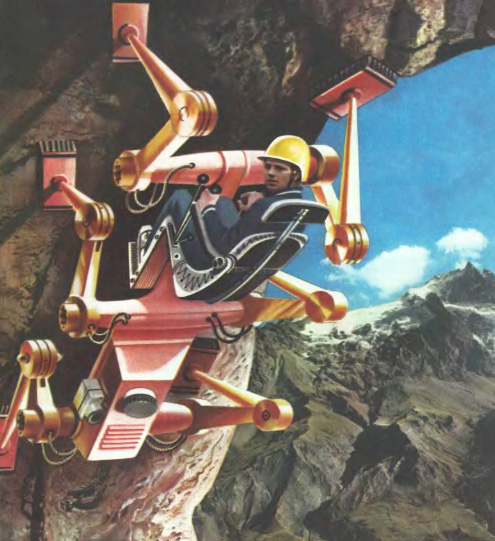 (art by TM, Russia 1970)
American Dream produced some dreamy vehicles
America saw a lot of big and powerful cars in the 50s-60s (see some of them here). But first, American Transportation Dream required a wide system of interstates across the country. Here is a vision of the robotic highway-making machine, which would only require a single operator (from 1943):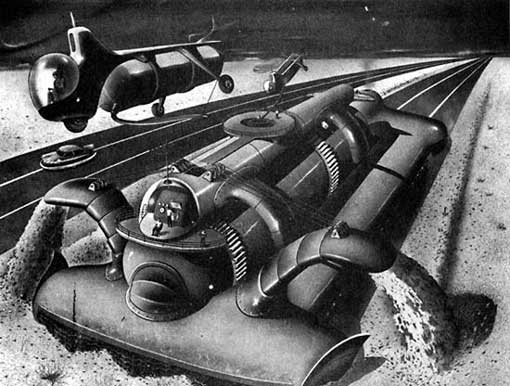 (images credit: Transportation Futuristics)
Beautiful supertruck, imagined by the US Royal Tires:
(I had a toy like this once)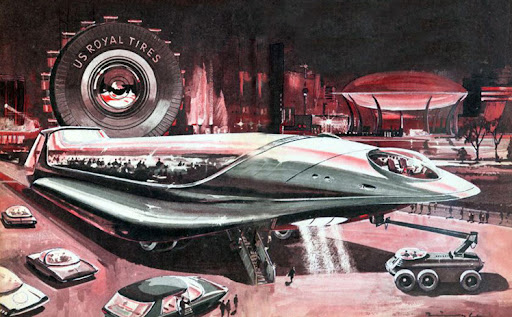 (image credit: retro-futurismus.de)
Strangely sinister-looking atomic truck. Raw Nuclear Power!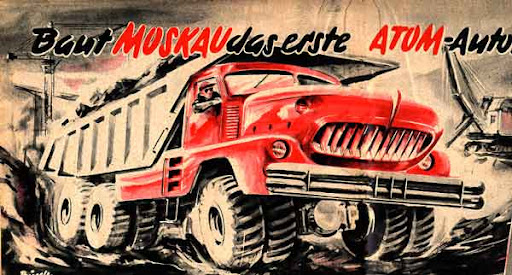 Artists dreamed of futuristic cars, hurtling down the highway: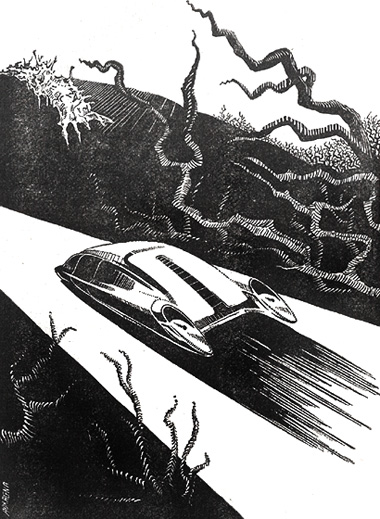 (art by Adragna for Amazing, Sept 1964)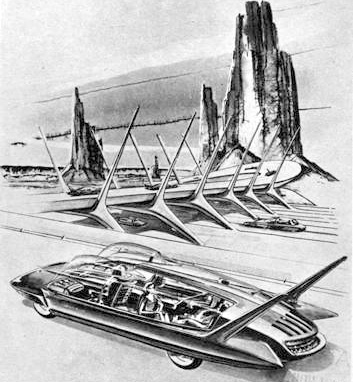 (art by Devon Francis, The New York Times Magazine, 1959)
Meet the Jetsons! Futuristic version of "yabba-dabba-doo" in the sky: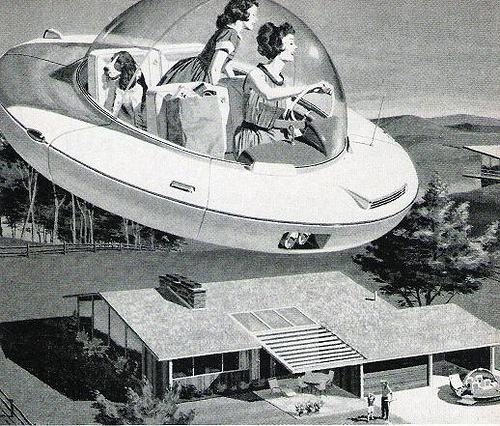 (image credit: Plan59)
This aerocar concept from 1967 looks just like my old trusty barbeque in the backyard, complete with the burners.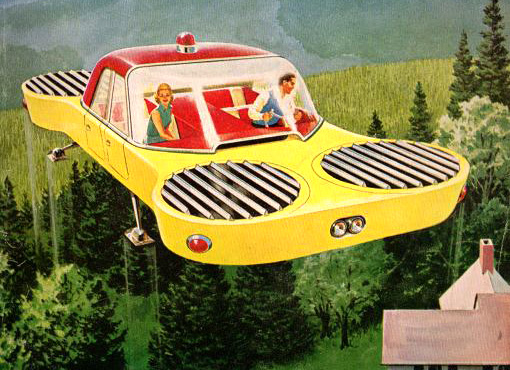 (art by Popular Science, July 1957)
Note the bottom vehicle in this MAI Russian concept line-up from 1955. Seems like some ideas can float in the air… and across the ocean: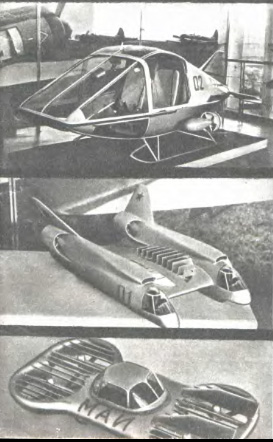 Flying car, according to the Soviet designers, 1967: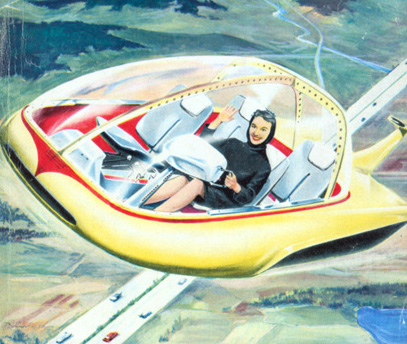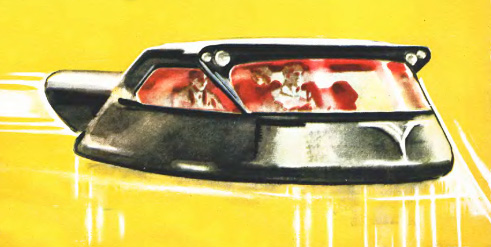 and American Modern Mechanix version, much earlier: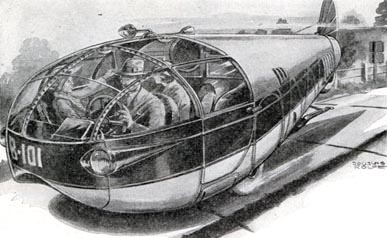 (image credit: blog.modernmechanix.com)


(art by Radebaugh)
Bizarre Offerings
True Rollerball! "Trade you trouble for a bubble"?!
(gets my vote for the dumbest ad one-liner):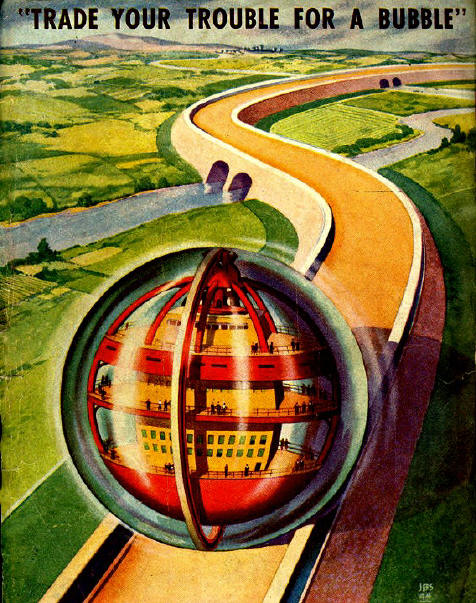 (image credit: David Zondy)
Octagonal Wheeled Watercraft from 1935 issue of Popular Science: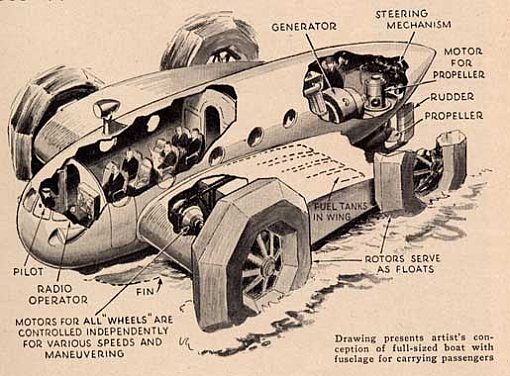 Strange wheel placement: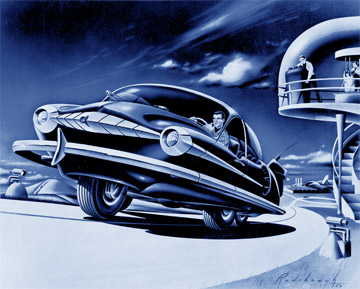 (image credit: Plan59)
Goofy-looking Modern Mechanix sphere-wheeled vehicles: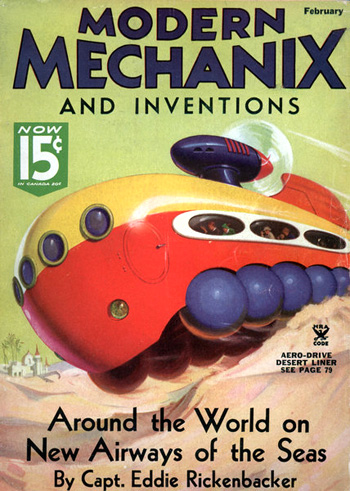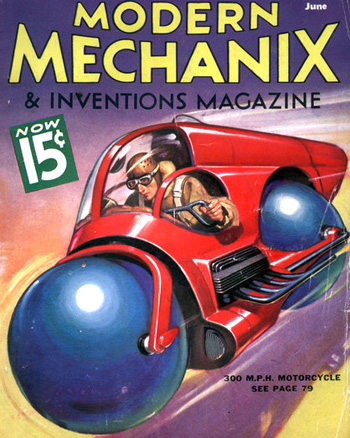 Huge "navi-trucks" will traverse the Earth, according to this 1933 vision. They will be able to penetrate the hardest terrain – the ultimate off-road! And a biggest SUV to boot.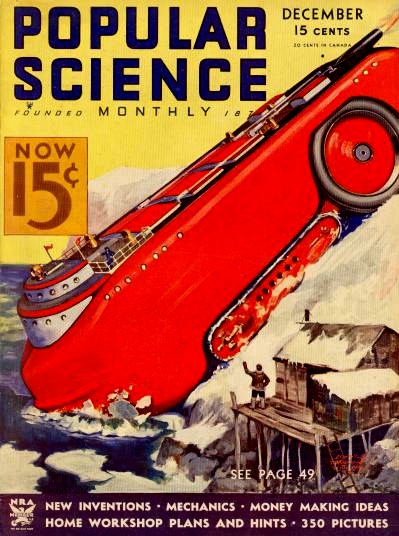 Flying saucers continue to pop up in the minds of designers, bringing with them little green ideas. This is a "Flying Saucer Bus":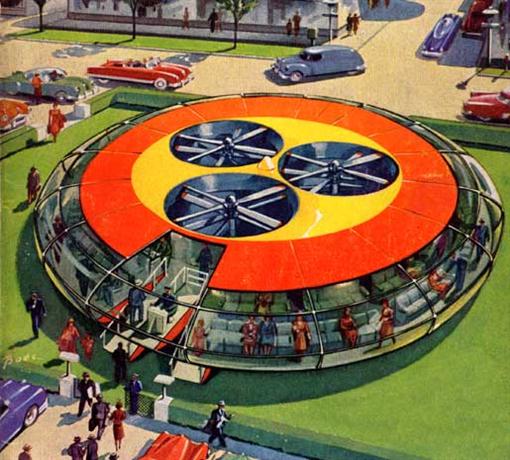 (art by Science and Mechanics, December 1950)
Monorail Dreams
In some extreme cases, we'd rather say – "monorail hallucinations"… A concept proposed by Popular Science magazine for the World's Fair in 1939:
(cars, passengers all cozy up together inside a cage in the sky)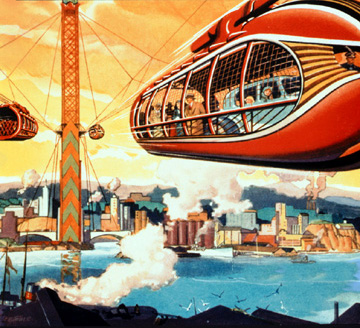 This (almost) got made: (almost) realistic proposal for rapid transit in Washington, D.C. by D.C. Transit System, Inc., 1959:



Elements of "shark fin" car design can be traced in this 1962 Goodell Monorail: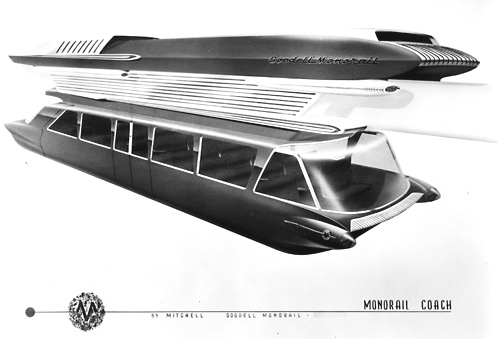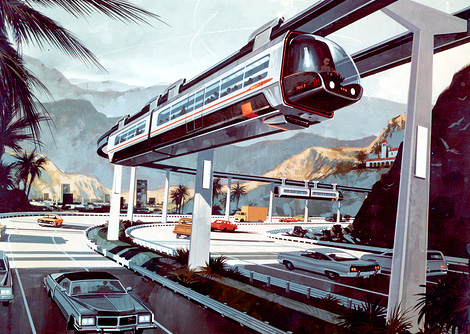 This monorail is… unhappy: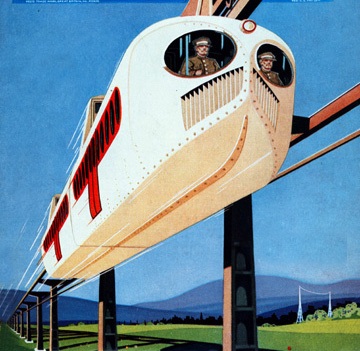 (art by Popular Science, July 1952)
Russian version, 1973:


Another Russian concept: "Monorail SuperTrain". Double size everything: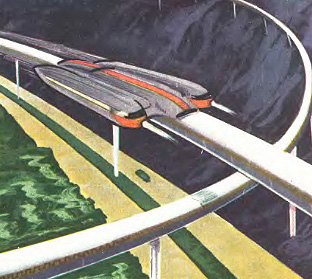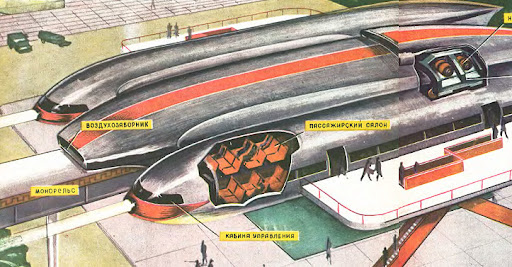 Click to enlarge: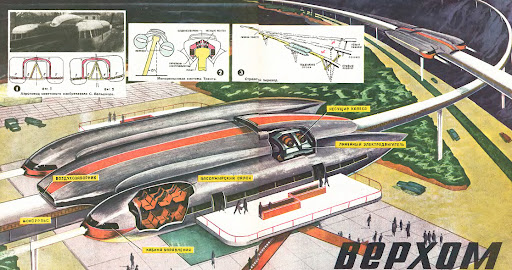 (art by TM, Russia 1974)
German version of a similar Super-Train: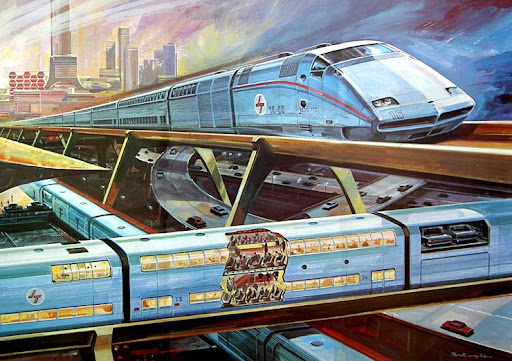 (image credit: retro-futurismus.de)
Urban tube train system. Looks good, but if it gets too complex, the maze of tunnels might suddenly snap into the 4th dimension. Read A. J. Deutsch's story "A Subway Called Moebius", where "the system becomes so tangled that it turns into a Moebius strip, and trains start to disappear":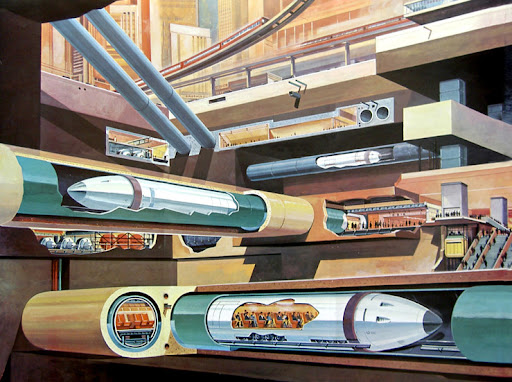 Not a monorail, but a super-size train nevertheless: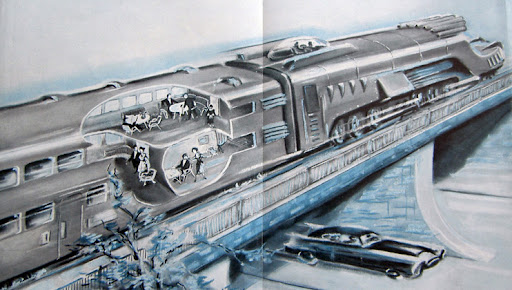 (image credit: retro-futurismus.de)
Bohn Designs from 1947
Finally, a series of classic concept transportation images from Bohn – aluminum & brass company from Michigan.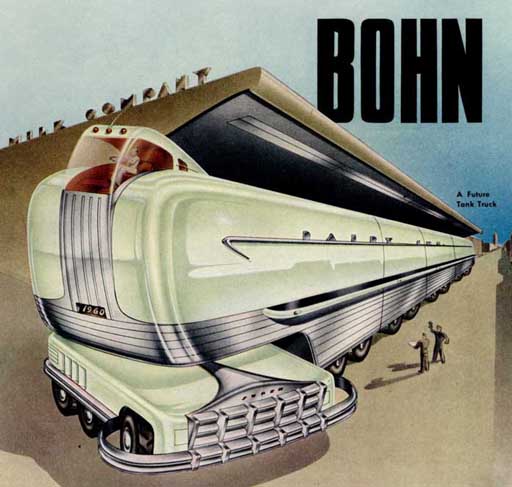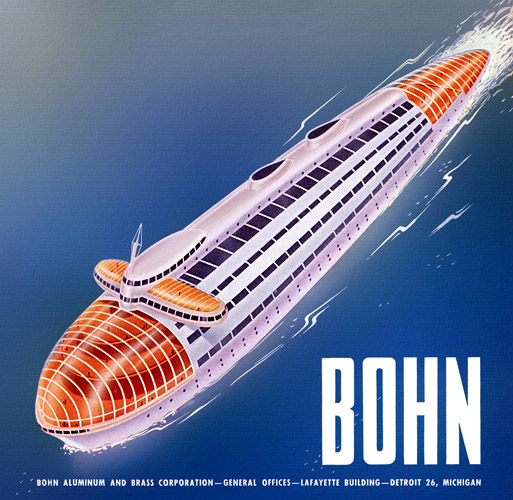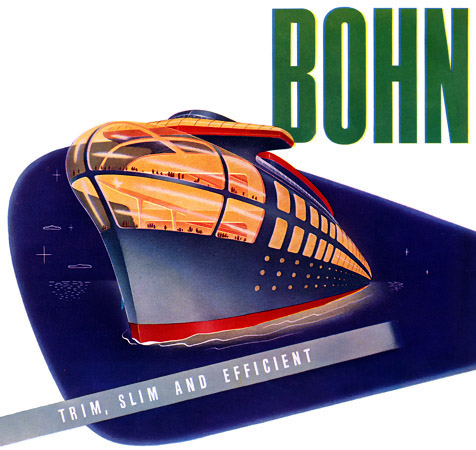 (image credit: plan59)
Yet nothing beats this steampunk "Flying Steam Liner". It can single-handedly cause a global warming, we're sure: