Surreal Paintings By Mihai Criste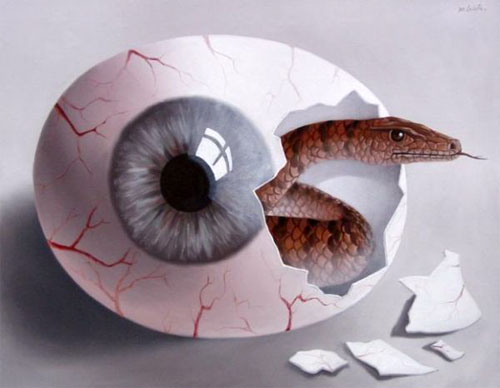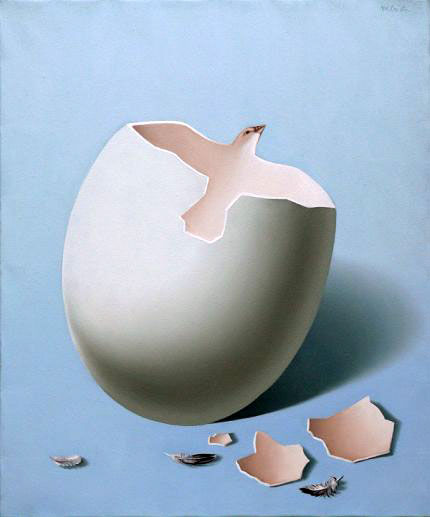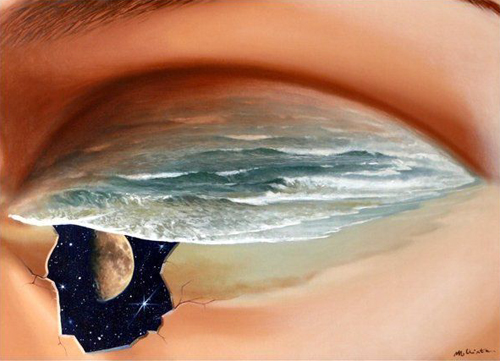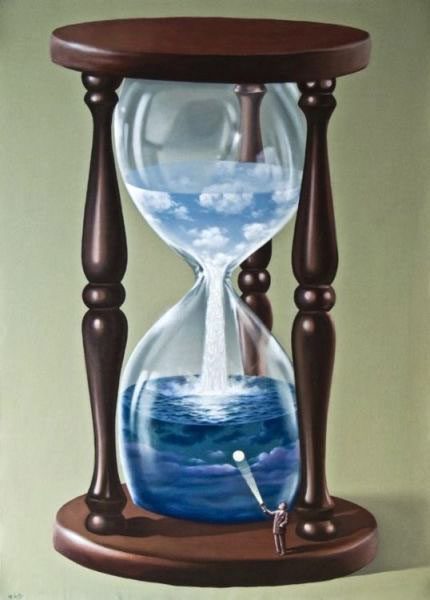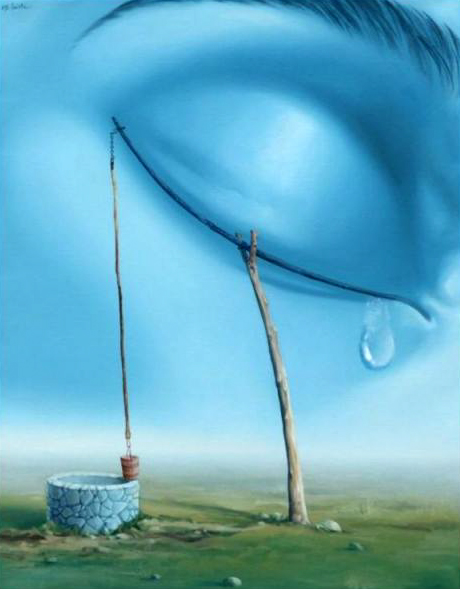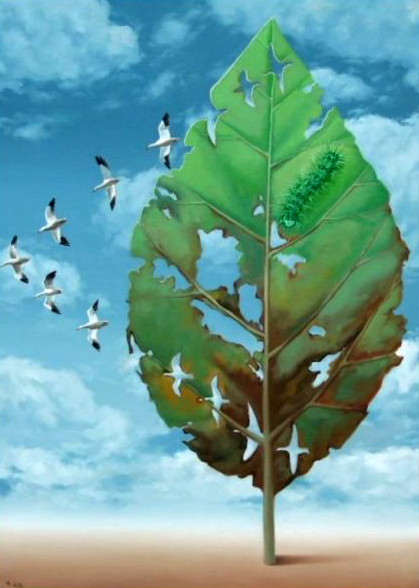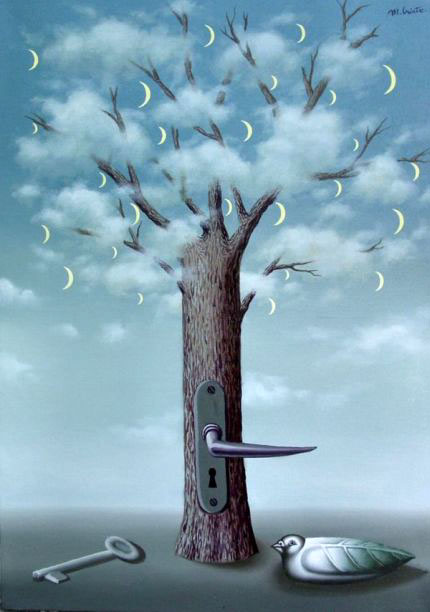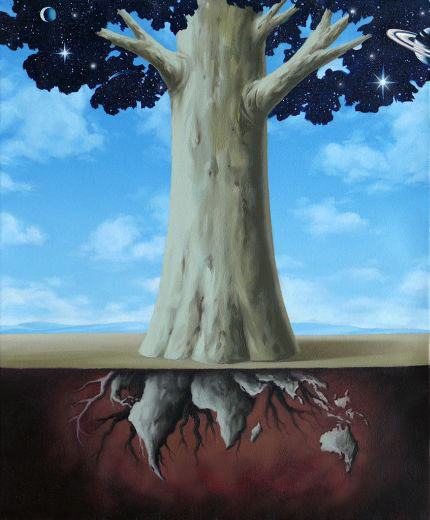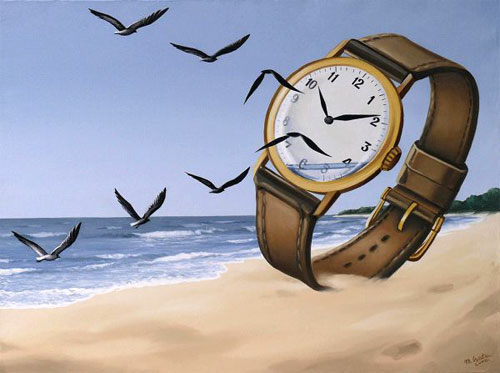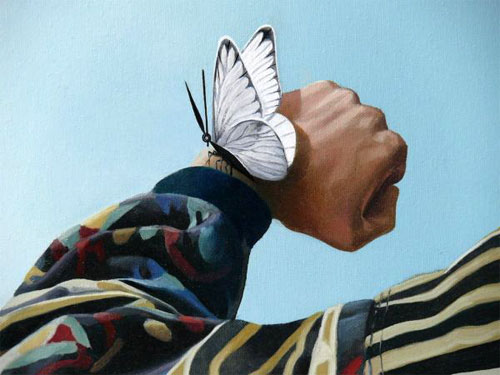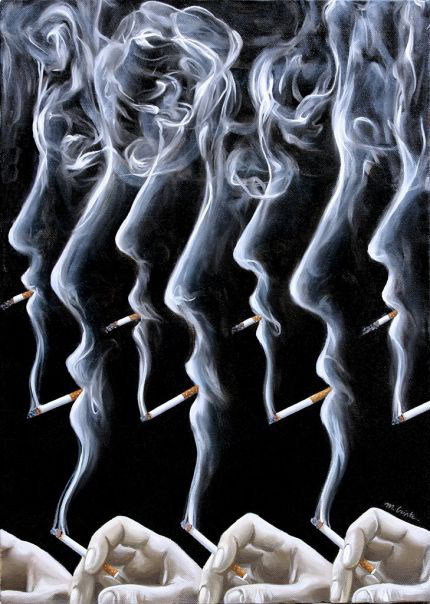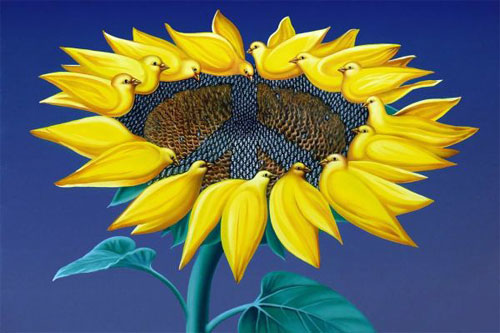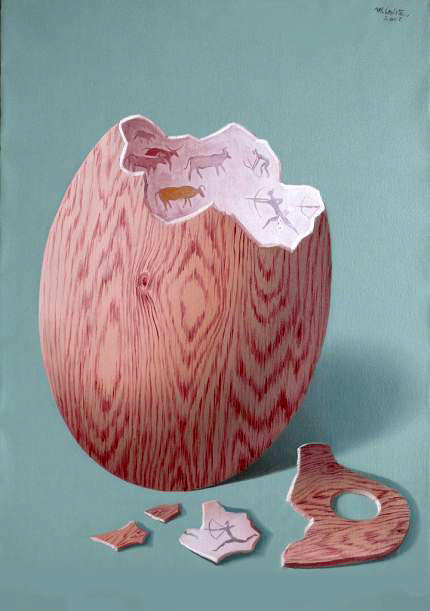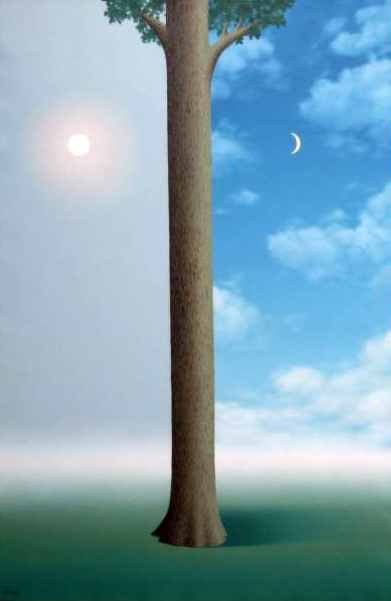 Strange, surreal illustrations by Swedish artist Linn Olofsdotter

Vladimir Kush' is a Russian born painter, who is identified with the metaphorical realism movement.
Born in 1965 in Moscow, he learned to draw at home and started attending an art school at the age of 7. He entered the Moscow art institute at 17, and when he went for his mandatory two years of military service at 18 was soon set to painting murals and canvases rather than regular infantry duties.
Bored with the Cézanne-style painting his art school concentrated on, Kush switched to surreal images as a teenager; he experimented with different styles of impressionism after seeing a book of Salvador Dalí's work in the late 1980s but it didn't appeal because shape was lost in the style. Strongly influenced by his father (a scientist), he believes that realistic paintings show the artist's professional skill and draw the viewer in so that they accept the impossible images enough to see the metaphors in them and explore the different layers of meaning.
In 1990 he showed works in Germany together with two other Russian artists; he visited Los Angeles for a show and stayed in the United States.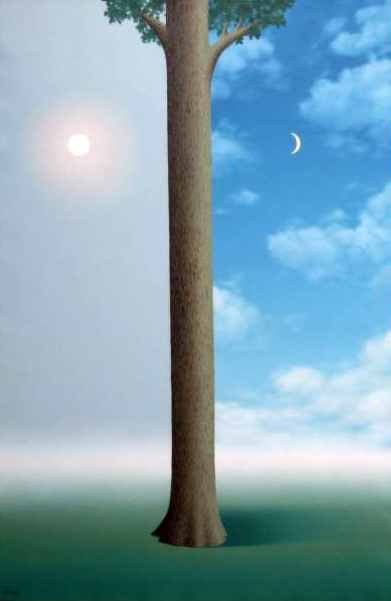 Red Purse
Anticipation of a Night's Shelter
Keys
Red Wood Cutting
Ripples on the Ocean
Wind
Winged Satellite
Wardrobe
Walnut of Eden
Star Target
Invitation For Lunch
Morning Blossom
Chess
Dream Catcher
Bound for Distant Shores
Black Horse
Arrow of Time
Forgotten Sunglasses
Eye of the Needle
Garden of Eden
Heavenly Fruits
Fiery Dance
Stopped Moment
Lovely Plant
Icarus
Webmaster
Green Apple
Eldorado
Tide of Time
Treasure Island
Our Time Together
Nero
Opium Lovers
Gain some weight with a fast-food salad
Baby panda
Actions
More about this post
53 responses to "Surreal paintings of Vladimir Kush"
21 06 2007

WETTTNWYLD1 (06:28:23) :

I REALLY ENJOY THIS ART

22 06 2007

C.B. (20:40:03) :

wow, this is cool. Gave me some inspiration!

18 07 2007

Samantha (22:37:22) :

Fantastic. Insightful. Desired! I wish I could have a print of "Ripples on the Ocean", it would be lovely to look at, very serene yet exciting.

19 07 2007

Vjktor (07:56:37) :

Very explossive, I think… And I have to say those pictures are really fantastic!!! Awesome!!! Someway, my world is like some of the pictures… so, glad to watch this .'.

21 07 2007

joe (05:11:46) :

nice! thumbs up on stumble!

12 08 2007

fluffygirl (06:38:13) :

Stunning and amazing! The longer I look at one, the more I see in it.

6 09 2007

lia (00:26:18) :

Perfect surrealism and captured emotion… i'm in love

12 09 2007

Fugdale (11:30:59) :

Such beautiful artistry. These paintings would make a great source material for a tarot deck. All the imagery and symbolism in them.

17 09 2007

Connie (06:04:04) :

Vladimir's mind is very insightful and intelligent.

19 09 2007

tcicatko (17:48:16) :

wow mind opening stuff

27 09 2007

Margareta (16:50:27) :

I'm full of praise, but like only to say "Thank you!"

27 09 2007

montanaman4 (20:49:22) :

I'm having a hard time deciding which one I want – I better just buy them all and get a castle to hang them in – beautiful stuff

27 09 2007

montanaman4 (20:50:56) :

Dream catcher – that's the one – saw the naked lady the second time I looked at it!

3 10 2007

Jorge (06:52:03) :

This is the greatest Ive seen in months or years! I deeply fell in love with Morning blossom and chess wow wow wow! You're my idol

5 10 2007

Larry (04:32:15) :

Had the chance to meet Vladimir when we were last in Maui. He is a very nice guy and went well out of his way to accommodate our son who (like his dad) fell in love with his work. You should see some of this in a gallery. His work is much more extensive than what you see here or on his website.

15 10 2007

Trini (01:28:01) :

He's my favorite artist. Thanks for posting not many people know of Vladimir.

26 10 2007

Zuza Fun » Vladimir Kush sculptures (16:27:24) :

[…] the beautiful surreal paintings of Vladimir Kush part 1 and part 2, here are the sculptures inspired by his […]

28 10 2007

neplizheart (10:55:35) :

nice art! i really enjoy.

3 11 2007

Nadia (10:23:38) :

Wow, amazing paintings! Can´t find words to express my fascination.

5 11 2007

Tine (01:29:56) :

Wow, i'm really amazed by these pics. Nice work mister Kush!

Love it!

Byee!!xxx

6 11 2007

tyson (07:54:52) :

i dunno. nice technical work, but rather 'dali-esque' to the point of being almost boring. is this really surreal art or art to look like surreal art?

15 11 2007

Babz (06:01:44) :

Bello

15 11 2007

Namron (21:59:32) :

Technically fine but just a rehash of Magritte, Dali etc.imagry. The original surrealists were not sentimental ,cutesy, or corny like much of these are.

22 11 2007

tyson (20:54:18) :

agreed.
there also seems to be an over abundance of 'naughty' parts. (i posted this once before but it got removed, apparently the anatomically correct names are too taboo).
obsessive about openings. to the point of being redundant.

26 11 2007

M Radha krishnan (08:30:04) :

Mindblowing creative inspirations! As I felt, Dream Tour!

7 12 2007

Hexfire (22:24:36) :

These are fantastic works of art. Highly impressed by these, I think I'll buy a print or two.

10 12 2007

rob (19:12:50) :

ugh.. tyson, stop critisisng the artist unless you think you can do better!
I think this artworks brilliant.
xx

19 12 2007

onnyxx (06:21:49) :

"FABULOUS"… Contrary to what a few of you are saying, Dali would love them!

13 01 2008

Serenite (06:47:24) :

Awe-inspiring…simply fantastic work. Kush is a genius.

13 02 2008

take a ten strip (02:19:41) :

surreal?

NOT REALLY

just take a ten strip of acid get a pint brush and a twelve pack chief….

then youre in the zone!!!!!

1 03 2008

DAFNE (17:23:40) :

FaNtAsTiC! … I really like expressing emotions by this type of art. In this pictures you can see the ideal nature u can dream of.

6 03 2008

Cat (23:44:30) :

great…this is the art..

12 04 2008

Domonique (20:33:50) :

To dream in color would be to view Vladimir's work. For those who critisize, you obviously lack the talent and the ability to appreciate of those who can create artwork that stir others' imagination. You can never judge someone's imagination or creativity, unless your that someone who created it in the first place.

BEAUTIFULLY IMAGINATIVE!!!

6 05 2008

Jenks (05:19:00) :

This work is the ultimate in the art of imagination or if you will the imagination of art. I love it keep up the outstanding work!

16 05 2008

hesika (23:51:27) :

An awesome and very interesting view of the things of life. Thank your for sharing it with us all.

5 07 2008

leah (03:36:13) :

the art that i saw made me look @ life in a differnt prespective!♥

5 07 2008

Traveler (12:52:35) :

Great images, I just love Vladimir Kush

I was looking for art prints, too bad that most of Kush's paintings are not available

23 08 2008

kismet (04:47:33) :

great artwork, thought provoking!

2 09 2008

naz (23:50:11) :

amazing..takes you to an other world

18 09 2008

sheebs (18:40:26) :

i'm assuming the fans of this art enjoy other great works such as kitten calenders and artificial floral wreaths, because that is the category this art belongs in.
boring, cheesy, and irritating.

24 09 2008

botsman (23:31:42) :

beautiful,beautiful and beautiful

11 10 2008

princess Facen (22:15:00) :

I love his work and have several pieces. the art is very thought provoking and moving. the symbolism is fantastic. I think his surreal work is awesome. Great job and keep up the good work.
Princess

6 11 2008

summaiyah (09:47:23) :

i love the surreally realist dipiction of the skies but i found the human figures disturbing…

13 11 2008

Dreams (05:18:48) :

Pretty amazing. The level of detail in Vladimir's art work speak volumes.

1 12 2008

francisonline (17:24:34) :

now that's what i call talent.

5 01 2009

mandra (05:40:47) :

Wow… it really amazes me that some people can't look at a thing of beauty and accept it as such, without degrading it by casting it as inferior… Vladimir Kush can add one more new fan today!

24 11 2009

Letty (02:31:27) :

Happy to say that I'm a new owner of two of his paintings and 1 sketch. Fell in love with his work while visiting his gallery in Las Vegas Nevada. Fell in love with one of his paintings and had to have it, then wait…fell in love with one more and had to have that one too. Then couldn't leave the sketch behind! Looking forward to seeing them hanging in my home, they'll be arriving in a few weeks!

19 12 2009

Metaman (00:41:12) :

You should see them animated! It is now available in a new DVD created by Vladimir Kush called Metaphorical Voyage. Check it out on metaphoricalvoyage.com

21 12 2009

Hannah (14:04:01) :

Hi, i love Vladimir's work they're beautiful. But i'm always wondering. . . what does he use? Does anybody know? I look on the internet and it doesn't tell me. I'm very curious because they look like watercolor rather than oil, or acryllic. If anyone could tell me i'd be very greatful.

28 12 2009

cole (19:03:06) :

I have to agree with Tyson and Sheebs. Besides for a few aspects of these, they're not very creative. I painted in the style of Maxfield Parish for a while, and after fighting the criticism for a while, I finally realized that my critics were right. It's just not as impressive when you use someone else's established style without adding your own touch. Great technique, though. Just too Dali-esque. Oh yeah, and for those of you who are up in arms against negative feedback, some artists actually appreciate it. Just because you think it's amazing doesn't mean that other people can't have different opinions about it.

6 02 2010

Jovan Nikolic (17:46:29) :

Fantastic pieces. One of the best Surrealism paintings I ever saw.

14 02 2010

Terri LaClaire (21:19:25) :

I love the surreal work of Vladimir. My son found this site and shared with me. Being a lover of Dali whose work we had the privilage of enjoying in St Petersburg FL, he felt I would enjoy this work as well. My favorites are "Bound for Distant Shores" and Firery Dance. I would like to know where I can get prints of both.

21 02 2010

Otter (04:41:02) :

nicely worded cole. while i personally disagree, to most artists, being an amateur as a Senior in High School myself, criticism is sometimes appreciated, but those who simply tear apart the art because they do not feel that aesthetics are necessary nor even like that style of art (cubism, surrealism, photo realism, etc.) at all are quite irritating, and if one is going to criticize then giving suggestions on how to improve are almost always appreciated.

i myself believe his works are amazing. i cannot think of many ways in which he can improve. his ability to paint an emotion as a poet would write about one is awe inspiring. i hope to someday be as good as him.
Leave a comment
Name (required)
Mail (will not be published) (required)
Website
You can use these tags : <a href="" title=""> <abbr title=""> <acronym title=""> <b> <blockquote cite=""> <cite> <code> <del datetime=""> <em> <i> <q cite=""> <strike> <strong>
---
Navigation
Search
Blogroll
Recent posts
Recent comments
Browse: Home / Uncategorized / 22 Eye Opening Illustrations And Surreal Photos By Ben Heine
By Tabi on February 4, 2010
Hello there! If you are new here, you might want to subscribe to the RSS feed for updates on this topic or want to recieve latest updates in email.
You were searching forPosts relating to "surreal and strange paintings". See posts relating to your search »« Hide related posts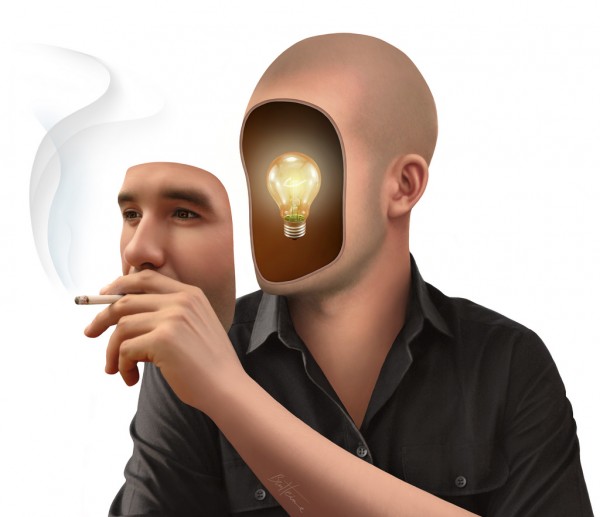 Ben Heine a Belgian painter, illustrator, portraitist, caricaturist and photographer. He has done  degree in journalism. Ben has also studied graphic arts and sculpture art and have 8 years of experience as a graphic creator. Lets take a look at some of his eye opening illustrations and surreal photos.
22 Photos